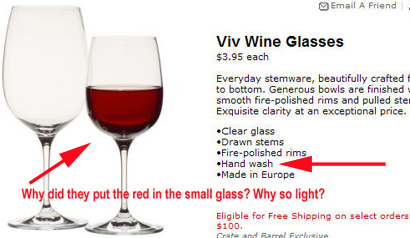 Ray Isle has an cute article called "Holiday Wine Survival Guide" in the December issue of Food & Wine, which landed with a thud in my mailbox on Saturday. He offers many tips for the holidays including how much wine to have on hand (whoa, Ray, invite me over and send for the F&W stretch hummer afterward!), wine gifts, and some tips for temperature.
He also brings up the issue of renting or buying glasses for a big party. The appeal of renting is easy: it's can be less than $1 a stem and you can often return the glasses unwashed. But then there's the downside: generally poor glass quality, potentially high minimum charges for delivery, and, obviously, you've got nothing to show for your expenditure when the party's over.
So break out the rent or buy calculators! My own calculations were just about finished when I saw that Ray recommended a decent-looking $3.95 stem from Crate and Barrel. But then I saw that it said "hand wash." Whoa! Talk about a buzzkill cleaning several dozen glasses! I've had good luck with the Tritan Forte, which can be found for under $10 a stem, goes in the dishwasher, and is impact resistant (note: NOT break-proof).
What do you do for glasses at parties?