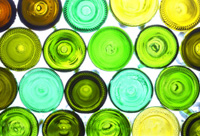 My posting last week on the carbon footprint of wine has generated a good discussion around them there internets. But one thing is missing: the wines YOU want to have analyzed!
So, in the comments below, have your say about wines you would like to have Pablo and me pour all over our carbon calculator. Let us know the wine name, winery location and where you will be consuming it. If possible, we would need to know the bottle weight (empty or full–the wine part always weighs the same).
Given our findings that transportation (coupled with glass bottles) makes up such a significant portion of the carbon footprint, it's hard to say outright that one bottle is worse than another at face value. One of those ridiculously heavy bottles might not be so bad if it were made 50 miles from the winery and then consumed in the winery tasting room. But usually those are sent around the country (world) by air freight, which makes the biggest polluters.
Post here by Friday what you'd like to see us work on. We'll pick one that seems popular or interesting and we will crunch the numbers over the weekend.
(image: istockphoto)