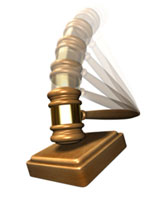 The pace of events in the best wine story of the year has just quickened. Earlier in the year, the Wall Street Journal had a page one story revealing the billionaire Bill Koch had assembled evidence of fraud in the auction market and was preparing to turn it over to the FBI. The New Yorker followed with a fascinating story of "The Jefferson Bottles," which laid out even more details about the story, which included such characters as Koch, described as a billionaire sheriff trying to right wrongs, an elder statesman in the world of auctions who was either culpable or gullible, and a fraudster named Hardy Rodenstock who was known fro throwing elaborate parties and perhaps being a superb blender of old wines into fraudulent bottles.
Now, the WSJ goes back to the well and reported on p. A16 on yesterday that Bill Koch has sued Zachys and collector Eric Greenberg in federal court in New York. Koch bought $3.7 million from a Zachys auction on October 28, 2005 that was sourced to Greenberg's cellar and now alleges that 11 of those bottles were fakes. Zachys declined to comment and Greenberg's attorney called the allegations "absolutely false."
But now Howard "wine under $20" Goldberg rides in with the revelation on Decanter.com that it was Eric Greenberg's cellar that was auctioned this past weekend by Acker, Merrall. Acker had previously not named the collector who was selling, instead referring to it as "the man with the golden cellar." It fetched $15.6 million including commissions.
Related: "Has the wine auction market peaked?" [Dr. V]
See the official court papers via scribd.com