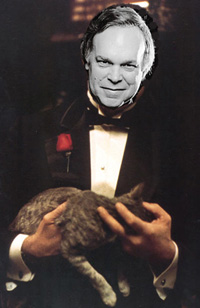 Alain Raynaud, owner of Parker-fave Chateau Quinault L'Enclos, asked Robert Parker to be the godfather of his child. Parker told Elin McCoy in Emperor of Wine "he didn't see how he could refuse." Why is the world's leading wine critic on such close terms with the people whose products he says he independently evaluates? Or, as the saying goes, who's your daddy?
These questions and more will be publicly aired with a new tell-all book from his former assistant in Bordeaux, Hanna Agostini. Agostini helped Parker with translations from 1995 – 2003 and controlled his calendar while he was in the region, often twice a year. Late in her tenure with Parker, she became embroiled with scandal of influence peddling, trying to cash in on her control of Parker's schedule and sending out invoices for her consulting on his letterhead. After standing by her for a time, he let her go.
Now she's fighting back with her own book, Robert Parker: Anatomie d'un Mythe, just published in France (and just purchased via amazon.fr by Dr. Vino). While she has respect for his palate, she accuses Parker of recycling his tasting notes, pokes fun at his prose, and even evaluating wines in print that he hasn't even tasted. Here's an excerpt from her interview with the Bordeaux paper, Sud-Ouest (link to cache; my translation):
In bringing up his relations with the winemaker Michel Rolland, and the négociants Archibald Johnston, Jeffrey Davies, Bill Blatch and Dominique Renard, his friendship with Jean-Bernard Delmas, the former head of grand cru haut Brion and the Moueix family, I'm not saying anything that's not already widely known…I only want to show that there's a yawning gap between his rhetoric and his actions.
The situation does raise the larger question of how close should a journalist be with his or her subjects? On the one hand, distance maintains journalistic independence. On the other hand, proximity and access make for a more nuanced understanding of what's at stake and the players involved. Oh wait! Parker doesn't even claim to be a journalist, but a critic–THE critic–so there's no scoop for him to get. Just wines and tannic barrel samples, by the hundreds.
And, by the way, Alain Raynaud tried to block the book's publication because he says Parker is not godfather to his daughter. A court in the region ruled against him last week.