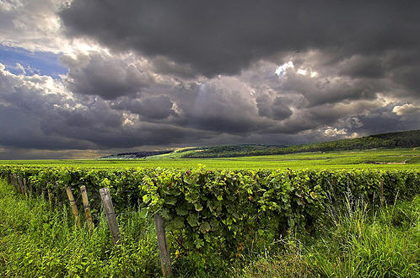 How will vintage 2007 turn out in France where it rained much of the summer? A few weeks ago, I posted a comment that someone in the trade in France told me: "We'll see who are the real biodynamic producers this year. If they're really biodynamic, this year they won't have any wine."
With a rebuttal today, via email from the Coulée de Serrant in Savennieres in Loire, we have Nicolas Joly. He is a leading practitioner of biodynamics and wrote the book "From Sky to Earth" to help vignerons around the world in their conversion to biodynamics. I say vignerons and not "winemakers" because his business card reads "Nicolas Joly, Gérant de la Société, Nature assistant and not a winemaker." To his email:
All serious biodynamists had no problems with disease! I lost maybe 1% of the crop. There were as many people caught on the conventional side as on the organic/biodynamic side. Any serious person will confirm this. Those who were caught were those who have not much experience with mildew-rare though they are. Mildew's development is a very fast–one or two days as opposed to a month for oidium–so you need to react very fast reaction. It's simple: treat after the rain with very small doses of copper each time. We used around 5.5 to 6 kg of cooper per hectare this year, about 50% more than last years. We had the strongest pressure for 20 years.The 501 BD treatment was also very efficient. The negative statements come from people who either have no understanding of BD or who want to justified the fact that they did not move toward a better farming.

I have a new book coming in the US soon for consumers (it just came out in French ) and will be available in Italian, Portuguese and Spanish soon.

On February 9th and 11th part of the group "Return to Terroir" will be in Montreal and Toronto [for a tasting of biodynamic wines].
(image, with permission)