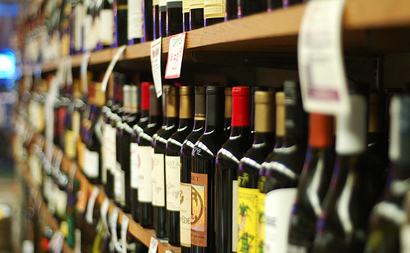 SIPPED: Competition!
Academic researchers Alan Wiseman and Jerry Ellig studied wine retail prices in Virginia before and after the Supreme Court decision. Care to guess which period had the higher prices? Indeed, prices fell 26 – 40 percent with greater interstate trade in wine. [Journal of Politics, pdf]
SIPPED and SPIT: wine discounts in France
The annual "foires aux vins" are taking place in hypermarkets around France. Consumers rejoice when markups can fall to as low as zero – five percent. Meanwhile, those in the trade grumble about other retailers scooping up the fine wine and reselling it for more later. In all, a quarter of French wine sells during these Foires according to the AFP story.
SIPPED: Pinot Noir. Go Ca-na-da!
The quest for North American pinot noir has moved north–1,100 miles north of Sonoma's Russian River Valley to British Columbia. Hotter summers and milder winters have brought better grapes such as pinot noir to places like the Okanagan Valley, half way between Calgary and Vancouver. Now it's a race against the frost to harvest. [WSJ]
SIPPED: late sampling
The 100 wines available by the glass at Artisanal will be half-priced after 10 PM. Starts next week. [Grub Street]
SPIT: Brunello di wha?!?
Author of historical fiction, Ken Follett, has a new 1,000+ page doorstop out. Let's hope he gets his wine references right this time (we're all up on our 14th century English wine, right?) since he admits that he erroneously invented the "Brunello Di Moltepulciano" in his last book.
SPIT: Claridges in London
The next time they go to London (by sailboat?), Treehugger admits a boycott of the Claridges hotel in London. Why? Because of the carbon footprint of the bottled water, now with over 30 choices including a liter from NZ for £50. Claridges' Renaud Gregoire told the Evening Standard that "water is becoming like wine. Every guest has an opinion, and asks for a particular brand." What the heck, given my earlier bottled water ban, I think I'll boycott Claridges too! Feel the pain of my non-visit, Claridges! [Treehugger]
With a theme of Portuguese table wines, WBW 38 has been wrapped up with 30 contributors around the web. Great map! [Catavino]
Have you ever had a question for me? Hit the "contact" button above! Tom Wark had twenty questions for me that I answered in a Q&A. Check out my answers at his blog. [Fermentation]
(image)