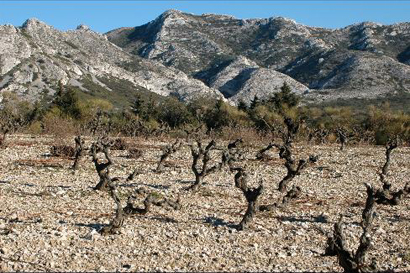 In the chorus of Rhone varieties, Grenache rarely gets to perform solo. But at the most recent lunch for the Wine Media Guild in New York City, we put it on a stage all alone with twenty five examples of the grape from five countries.
Which is the most planted red grape variety in the world? According to our speaker and grenache-o-phile, Jean-Francois Ey, it's grenache. The grape often appeals to winegrowers because of it's workhorse-like productivity in early years of the life of the vine. But it may appeal to consumers, particularly as the vine ages, because of wines light in tannin that can have a faint sweetness and high degree of alcohol. Even though the day of our tasting was still warm, it strikes me now as an excellent transitional red as the weather has cooled.
Our tasting consisted exclusively of old-vine grenache. "Old vine" appears to be the wine label term du jour and producers toss it around–like "reserve"–with so little regulation. Jean-Francois, 30, imports several wines from Roussillon under the Ey Vineyards label and put the question of age into perspective for Grenache. In the Mediterranean climate (with no irrigation or fertilizer), the vines take five years just to get going. Then they have 25 bountiful years with abundant yields. But as the vines age, he said, they yields become so miserly that one vine produces enough fruit for just one bottle of wine. At 30-35 years of age, a producer can make good money but after 50 years, they will make good quality he said.
Turning to the wines, we had two white grenache, one rose, several 100% red grenache and some blends, and finally a Banyuls sweet wine.
One white was fascinating. The La Conreria d'Scala Dei, Les Brugeres 2006 (find this wine, about $29) is an astonishingly aromatic yet dry white from Priorat. Given that every wine I've ever had from the region before has been red, this was a real find, with fruit from 104 year old vines fermented in stainless steel on the lees. Throw it in a blind tasting and completely stump even the most wine-geeky of friends.
Rolling in at $11 (find this wine), I found the red Sella & Mosca Connanau 2004 from the volcanic soils of Sardinia to be a fun, juicy, toss-it-back kind of wine. But the finish was abrupt.
Jean-Francois' own Ey Vigne d'en Gaume 2004 from a 12-acre single vineyard in Roussillon again had that pleasant juiciness since it is both unoaked and 100% grenache. A good wine with fish or meat. (find this wine)
The real star of the tasting in my view also came from the Rousillon. In fact there were two other stand out wines from this region that used to provide wine by the train car to the Parisian working class in the 19th century. One stood out for me as the best one of the tasting; the other for the bling factor.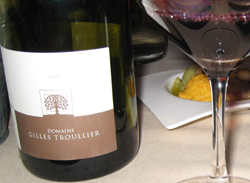 The Gilles Troullier, l'Esprit du Temps 2005 (find this wine; list $65) is a rich, serious wine with a significant but assiduous use of oak. Great aromas of tobacco and coffee add a multi-layered intensity to this wine made biodynamically from 100 year old vines. The label depicts a "gobelet" or "bush vine" as the Australians call it. Grenache often grows without a trellis in this form. In the winter it makes great material for photographers with old, gnarly trunks.
At $264, you'd think that the Clos des Fees was made by someone who was one of the top sommeliers, restaurant owners and journalists who had to ride a mule for 20 minutes along a dirt road from the valley floor to arrive at the vineyard where he harvested grapes from a steep, walled vineyard with 80 year old vines? Well if you thought that, you'd be wrong, since Herve Bizeul actually drives there instead of using a donkey.
The resulting wine, the Clos des Fees, la Siberie, 2004 (find this wine) almost made me reject it on principle because of the price tag. Impressive as it was, the oak was a little too intense for me pushing it too far in to the wood zone. If he'd throttle back on the oak and pave the road for greater efficiencies, maybe the resulting cost savings could bring down the price of the wine to the consumer?
The Domaine de la Janasse 2004 (find this wine) was my favorite Chateauneuf-du-Pape despite its intensity. Thick and brooding, it is drinking well now, redolent of dried herbs and meatiness. This is Grenache back in its role as a blender, and it's leading this chorus in perfect harmony.
The Domaine de Marcoux 2004 was again a big, bold CdP (find this wine). The $150 list price nearly put me off, but it is a fun, bulked up and blended example of Grenache. Needs meat.
For as low as $24 on line, the La Soumade, fleur de confiance, (find this wine) was one of the few Rhone wines that I've enjoyed from the hot 2003 vintage. Although it is showing some signs of age already, it was still holding it together. However, after being open for an hour, I found it oddly out of balance, almost amarone-like. Pull the cork on this one and serve it, don't save it. I wonder how much this would apply to Grenache wines on the whole since it's not clear to me if bottle age would do any of these wines particular good.
From Down Under, the Yalumba "Tricentenary" 2004 from Barossa was a good value at $25 (find this wine). It had a bit more oak and intensity than the 06 Bush Vine from the same producer. But still had food friendly crossover potential for food pairings. Good luck finding it though with only 100 cases imported to the US.
Finally, we finished the lunch with the dessert wine, Ey Banyuls 2001 (find this wine), which was a great way to go out on a good note. Grenache: how sweet–and surprisingly multi-dimensional–it is.
If you'd like to see the top two consensus wines from the group and read Paul Zimmerman's spirited tasting notes, surf on over to the Wine Media Guild site.
Related: "Green wine: the zen forest of Matassa, Roussillon"
Image: Mas de la Dame's Grenache vineyard in Les Baux de Provence, France, on Jan. 11, 2006. Source: Palm Bay International