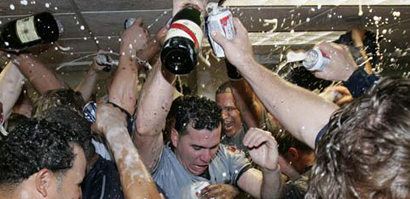 What sort of bubbly would you pop if your team made it to the Major League Championship round?
It may appear a rhetorical question, but around America this week it is a question that confronts baseball team owners. And from their choice, we can tell who will win the World Series.
Consider my hapless Cubs. What did they pop after they clinched the NL Central? Korbel. Granted, spraying a locker room is one of the best things you can do with Korbel. But it didn't bode well. They were swept by the Arizona Diamondbacks.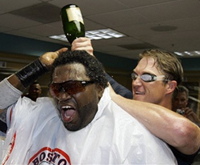 The Boston Red Sox, until recently, lovable losers like the Cubs, have advanced one round further. But which bubbly did they spray all over each other? Korbel. And with goggles and ponchos, no less!
The Indians appear destined for greatness. After beating the Yankees, they popped open the Mumm's. Granted, it's best use is probably Christening ships but at least if you ended up with a shot in your mouth, it wouldn't be too traumatic. (Though there are some beer cans visible in that top picture.) And the Indians eschewed goggles and ponchos. Real wine geek men. Winners, it appears.
Unless trivial details like earned runs and batting averages come into play.
Image 1: Fair use is made of a reduced size, cropped photo from sports.yahoo.com attributed to Bill Kostroun/AP
Image 2: Fair use is made of a reduced size, cropped photo from sports.yahoo.com attributed to Elsa