And the winner in the kids at wineries photo contest is…Josh for his son, Jackson, propped on a new oak barrel. Even though Josh had an inside edge thanks to starting his own winery in Sonoma and his own blog at pinotblogger, site reader Damon mounted a formidable campaign for photo of his adorable daughter Avery. It was such a heated battle that there was a lead change as recently as yesterday! But the late surge put Josh/Jackson over the top with 47% of the 377 votes cast when polls closed. There is some poetic justice in Josh's victory since it was his original comment that sparked this whole kids at wineries thread about six weeks ago.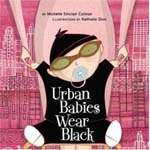 Josh wins a complete set of books by my wife, Michelle, in the Urban Babies Wear Black series, including the New Baby Baby's Journal, and the black onesie/tshirt. Do Sonoma babies wear black? Time will tell…
Thanks to everyone who submitted very cute photos. One of the other finalists, Amy, has her own winery in the Rhone and put up a posting related to this thread. Amy sez: "I can certainly tell you that here at La Gramière we couldn't get along without kids! They are always an enormous help to us during harvest, and they add such a wonderful esprit to the whole event. So here are some of my favorite kid photos from our past 3 harvests…"

One final vignette: I was on a panel with Joel Peterson of Ravenswood Winery last week and he told a story about grape ripeness. Thirty years ago he would throw his son on his back and walk through the vineyards to check the sugar levels with his refractometer. The best measure for ripeness, he found, was simply to pass a grape back to his son, Morgan: if he ate it they were ripe, if he spit it out, the grapes had to stay on the vine a little longer.
So here's to responsible kids and parents at wineries, something (nearly) everyone can raise a glass to!
Related:
"Kids at wineries: let the voting begin!"
"Kids at wineries, a photo contest"
"Poll: should kids be banned from wineries?"
Urban Babies Wear Black