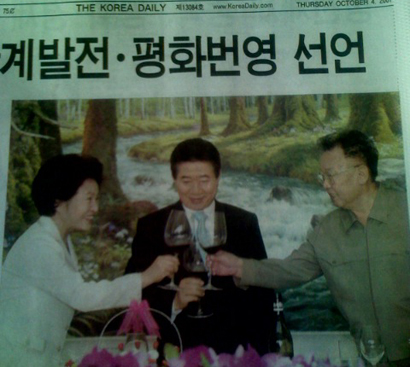 This just in from the Pyonyang bureau: Kim Jong-Il says cheers with wine!
The despotic ruler of North Korea was known for his lavish lifestyle. However, UN sanctions, enacted last year, aimed right at his silky soft underbelly banning trade in crystal, silk scarves, designer fountain pens, furs, leather luggage, jet skis, and Harley-Davidsons.
Now the Financial Times reports that the Dear Leader "has given up cognac so that his liver can last a few more years." And with a $1 million a year budget for 'yak, that is quite a lot of Louis XIII not consumed.
Given Kim's apparent deteriorating health, would he and President Roh Moo-hyun raises glasses of wine to toast the summit? As the picture picture above shows, he's still enjoying red wine in big glasses!
And just in case you were wondering what to pair with blueberry wine, here's a quick take on the summit menu:
The South Korean delegation was served with a variety of North Korean food specialties, including boiled beef, stewed ribs, carp stew and trout soup.

Pyongyang's famous blueberry wine and Ryongsung beer was served during the dinner, and watermelon and roasted chestnuts were saved for dessert.