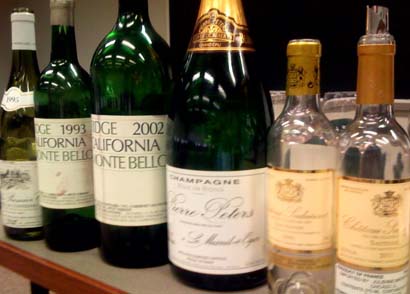 Is bigger better?
This perennial question came up during my class on Saturday at the University of Chicago. In this context, it related to bottle size, specifically, magnums.
The tasting had two magnums, one of Pierre Peters, "cuvee de reserve" Champagne and another of Ridge Monte Bello 2002. How sweet it is to organize tastings!
Anticipating the question of size, um, arising, I asked none other than the importer of the champagne, Terry Theise, via email beforehand. Here is his reply (reproduced with permission):
Hey Tyler – there is indeed a very good reason for buying Champagnes in Magnum; it is said to be the "perfect size" to promote a tempo and type of aging by which Champagne is said to show its best. Candidly, I myself don't know why nor if there even is a "why," and if there is I'm sure the explanation would be abstruse. I can tell you empirically that whenever I've had the chance to compare the same bottle-aged wine (e.g., Vilmart's 1992 Coeur du Cuvée) in bottle and Mag, the bottle showed more oxidative nutty development whereas the Magnum showed more estery, fresh and firm, and most important, more complex.

Some of this can get lost in theater, such as when restaurants pour young (usually commercial) Champagne by the glass from Magnums, which in fact is deleterious because the wines are painfully fruitless and reticent. Mags are for laying down. If you're going to drink the wine within five years of disgorgement, do so from bottle.

Why not pour that Peters from both sizes at your seminar, and discuss the distinctions?
Sadly we couldn't take him up on his suggestion to double up since I had already blown the budget. Do magnums attenuate the effect of oxygen and become the perfect bottles for aging slowly? Or is it sheer ostentatiousness at it best? Share your thoughts in the comments below.
(image: my cameraphone)