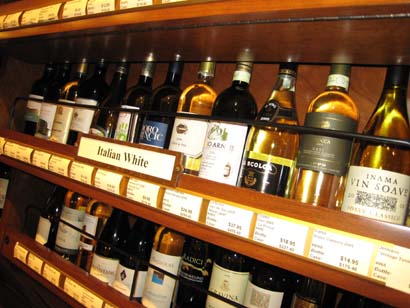 The venerable wine retailer Sherry-Lehmann moved and I couldn't wait to check out the new digs. After all, with so much innovation in New York City wine shops, I was eager to see how the management of this patrician shop capitalized on the opportunity to do something different with their new space at Park Avenue at 59th Street.
They didn't. It's lighter, with windows on two sides now. But it's still compact, now with less friendly displays.
On my visit, two things caught my eye as I browsed. First, all the bottles are locked down. And I'm not talking just the Petrus–even the $9.99 pinot grigio is clamped to the shelf. Wow, shades of Paris, not BottleRocket! I guess you can't be too careful at 59th and Park.
Second, there are no shelf talkers. You know, those little flaps of paper that usually bark out a score. I use this as a cursory indicator of whether a wine shop "feels the love," with staff-written flaps being the most loving and distributor print-outs being the least. What to do in the absence of a flap?
Ask someone. Eegad–human interaction! In a couple of paces I was at the counter where many tie-wearing men were keeping themselves busy. One broke away and asked if I needed help. Feeling summery, I said that I was looking for a Soave since I have previously bought the excellent Pieropan there for $17 (find this wine). We walked over to a computer terminal in the aisle and the sales rep tapped and clicked. Apparently I could have done this computer inquiry myself (a nod to the new wave of wine shops? Or a page out of Border's book?).
The search generated four Soaves, one of which was out of stock and the other two were just in the warehouse, for next day delivery. The fourth the sales rep was not familiar with so I didn't leap at that. On to the next thing: cru Beaujolais?
Indeed they had a small shelf dedicated to cru Beaujolais, dominated by several DuBoeuf offerings. I spotted a bottle of 04 Chateau des Jacques, which I had just enjoyed in a recent Bojo tasting, and for $15/bottle, I snapped it up (find this wine). Well, I didn't actually take the bottle from the shelf since it was locked down. But I told my affable sales rep that I would like it, he tapped into his handheld device, which sent my request to the basement storage room where my order was printed out. We stepped to the register and he rang me up and the bottle appeared slightly afterwards.
What's striking in the New Sherry-Lehmann is that it is so similar to the Old Sherry-Lehmann. With newcomers such as Moore Brothers offering the entire store chilled to 60 degree store and a kids play area, BottleRocket offering enticing displays of food and wine pairings, Crush with breathtaking design, Astor's quirky shelf-talkers, the New Sherry-Lehmann remains stuck in a bygone era of wine shop design. Not that it is necessarily bad. Just striking.
If it ain't broke, don't fix it must be the prevailing logic. The storefront actually seems somewhat superfluous since belies a massive back-end operation with a 65,000 square foot, climate-controlled facility in Brooklyn (now THAT I would like to see!).
Sherry-Lehmann has come through for me on a number of occasions in the past year and it remains without a doubt one of the top wine shops in the city. I find their selection to be quite good, the staff on the phone to be friendly and knowledgeable, and their next-day delivery to be excellent. But won't be rushing back to the small showroom itself. Why go to the store, after all, when with a quick phone call, they'll bring it to you?
sherry-lehmann.com
505 Park Avenue, New York, NY 10022, (212) 838-7500.
See it on the map of NYC wine shops