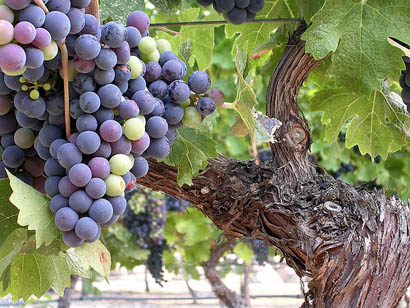 For the latest edition of Wine Blogging Wednesday, 54 bloggers around the world accepted my mission to "go native." Each one chose a wine made from a grape variety indigenous to where it was grown.
The result was a terrific listing of many unheralded yet rewarding wines. Tannat, for example, featured prominently with no few than four bloggers tasting this burly red grape and three of them tasting it both from its native France and comparing it with versions from Uruguay. Bloggers explored many remote corers of Italy, the country that produced the most tasting notes. Even the good old USA got some grapes written up, though only one Norton and assorted hybrids and clones developed to become indigenous.
Bonus points were awarded to those bloggers who dared to compare–two versions of the grape, from the homeland and a new home. The bonus points committee also rewarded bloggers who were able to try the grape in its growing area since, they too, were going native.
Without further ado, let's go to the roundup!
Bonus points: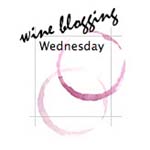 Steve De Long tasted three versions of verdelho, one from the homeland of Madeira and two dry versions from France and Australia. Click through to find out which one got five stars! [De Long Wine]
Grazza, a sommelier at an English Michelin-starred restaurant, blogs about the Paso Senorans albarino from Galicia, which he calls "a really classy example of the grape." Then he came back the next day to add a write-up of the biodynamic, Verdad Ibarra-Young Vineyard 2002, saying "I LOVE this wine – so much awsum." [Tales of a sommelier]
Joe from Montreal tastes doubles down on tannat: Uruguay-France (specifically, 2002 Bodegas Carrau "AMAT" vs 2001 Chateau D'Aydie). Click through to see which one was made him say "mmmm, THIS is Tannat." [Joe's wine]
Andrew Hwang also traversed the tannat axis, trying two different wines than Joe, the 2001 Château de Perron and 2000 Los Cerros De San Juan Cuna de Piedra Oak Reserve. Click through to see which was still tasting better after three days. [Rouge and Blanc]
Tannat trifecta! Markus at Weingolb also rides the France-Uruguay tannat train. He tastes the Torus Madiran 2004 (France) and the Domaine Monte de Luz Tannat 2005. Which one had "elegance" and which was "rough hewn"? Click to find out. And major props to him for pointing out that tannat is a palindrome. [Weingolb]
[We interrupt programing to reveal that in the above face-offs, France and Uruguay had a record of 1-1-1. Clearly more such taste-offs are needed!]
Doug at Nobly Rotten does the tocai two-fer: Livio Felluga versus Millbrook! He wanted to try the grape because he'd never tried it before and because it is now an endangered species going by tocai at least, after recent EU reforms. [Nobly Rotten]
Bob Gregg really threw himself into the assignment trying nine wines from unusual grapes in Quebec (some indigenous), where he was visiting. Fortunately the indigenous grapes didn't ruin his vacation. Thanks for the great effort, Bob! [BobGregg]
Living in Spain (Catalunya), Ryan and Gabriella found this WBW assignment to be a piece of cake given the abundant local grapes. They climbed the wall (almost) in Priorat at Torres and tried the rare "Grans Muralles," a blend of five grapes, Monastrell, Garnacha Tinta, Garró, Samsó and Cariñena. How many purple dots did they give the wine? Click through to find out. (And to find out your assignment of WBW #38) [Catavino]
Mariëlla Beukers from Holland blogs (in English!) about visiting Thierry Navarre in the Languedoc who makes a wine from ribeyrenc–wow, off-the-beaten-path! (and called a "Cépage oublié du Languedoc") [Wijnkroniken]
Peter May from South Africa goes local with a 2001 Pinotage from Rijk's in Tulbagh, where he recommends having lunch! [The Pinotage Club]
Tim set out to try local hybrids in his native Minnesota, but spared us the reviews after they failed to impress. But he landed on his feet with a Roussanne, his current fetish, that he gives four stars and calls "a steal." He's the last in the bonus round since at least he tried to go native at home. [Winecast]
McDuff writes up a Mansois aka Fer Servadou from the tiny AOC of Marcillac in Southwest France and finds two examples fro Domaine Cros, including the vielles vignes. His extremely informative post has a picture of winery, a map and two tasting notes. For this comparative approach, McDuff hereby receives bonus points! [McDuff's Food & Wine Trail]
First-timer and indigenous Italian, Andrea Gori, Trebbiano IGT Toscana 2003 from Tenuta di Capezzana. He says "something really different from international taste." He had it at a resto in the region! [Vino da Burde]
Dezel, who covers Virginia wines and wineries extensively on his blog, tried the Horton Vineyards Norton 2003 in his and its element, Viriginia. He says, "for $12, you may just find a new grape to fall in love with!" [Virginia Vine Spot]
John tries two wines from France and America that aren't the same variety–but, hey, the bonus point committee decided to give him da points for trying. One of the wines is made from Symphony after all! The other Picpoul de pinet. [Cork Dork]
Minette tries two wines from Pinotage in her native South Africa and compares them to rugby players in the current Rugby World Cup! [Winefly]
And other contributions:
David Baer took on the WBW theme with great enthusiasm, loading his luggage with many bottles of wine as "homework." His week-long trip to NH includes drinking Movia Ribolla Gialla and a Jean-Claude Masson jacquere from Savoie, which he described as "texturally rich, and a real sense of alpine air about it." Boston restos included. [Winebaer]
Neil, the Brooklynguy, tries three different chenins blancs, all from Domaine Closel in Savennieres. The 05 Clos du papillion was the winner, but what did he think about the 1995? Click through to find out. [Brooklynguy]
JB, a frequent commenter on this site, ventured to France for a sparkling rose, though not from Champagne! She tried the Bugey Cerdon Rosé made from Gamay and Poulsard. Sounds like fun–she loved the pinkyness. [Domaine 547]
First-timer, Gen, tries a "Low Yield Roussanne" and Lledoner Pelut 2003 and both get a thumbs up. [Gare aux gouts]
Alice Feiring joined the WBW fray for the first time–welcome, Alice! She goes the extra mile (or staircase?) in trying a Schiava from Georg Mumelter in Alto Adige, what sounds like an incredible value for $14. [Alice Feiring]
Alder Yarrow gets sent to Purgatory for eating eels drowned in Vernaccia. Oh no, wait, that was a Pope in Dante's Inferno. Alder, who's getting into the indigenous whites of Italy, tried the 2006 Vincenzo Cesani Vernaccia di San Gimignano from Tuscany. [Vinography]
Gabrio, another newcomer, tries the Ligurian Pigato, U' Baccan from Bruna. Is this a Bruce Springsteen grape? It's known in the local dialect as The Boss! He calls it "a white with strong character." The Boss, indeed. [De Vino]
Tim at Cheap Wine Ratings chose to write about Negroamaro, a variety indigenous to Italy. He tried two different examples of Negroamaro, one pure and one blended with Malvasia Nera. [Cheap Wine Ratings]
Sonadora visited a new local shop (yay, shades of WBW #18!) and got the 2003 Duca Carlo Guarini Piutri Negromara Salento. She liked it so much she was glad she wasn't able to find any Norton from her native Virginia. [Wannabe Wino]
Jack and Joanne try a Lagrein, the Porphyr, from Alto Adige made by the cooperative Kellerei Cantina Terlano. Jack calls it "the second best lagrein" he's ever had (and, yes, he's had more than two). [Fork & Bottle]
Catherine tries a Teroldigo Rotaliano from the North of Italy that she calls "absolutely delicious," adding, "What a discovery! I love being off the beaten track." Right on, Catherine! [Purple Liquid]
Marta dove into barbera for the first time, tackling the Costa di Bussia Arcapla Langhe, Vietti Barbera d'Asti Tre Vigne, and the Castelvero Piedmont Barbera, all under $20. [Marta Strickland]
Bryan took the Piedmont plunge as well, trying the 2004 Caranti Cascina Garitina Barbera d'Asti and the 2002 Monchiero Carbone Regret Langhe. [Vinilicious]
Wine Scamp tried a Cannonau di Sardegna, thinking it was native. Then she found out it's actually grenache from Spain. No matter! She loved the Argiolas anyway. [Wine Scamp]
Jules, a new dad from New Zealand, tries the 1998 Dessilani Nebbiolo from Piedmont, a grape variety he las relatively little experience with since they are hard to find down under. His reaction: "Wow!" [The Wine Wanker
Serge tries a Nero d'Avola from Sicily, the Morgante 2005. [Serge the Concierge]
Huevos con vino enjoyed a the tongue twister that is the Godeval Godello 2005 from Galicia! [Huevos con vino]
Edward tried the 2003 Roda Reserve from Rioja, which is a tempranillo-based blend. [WinoSapien]
Deb from Good Wines Under $20 tastes the value Cristalino cava, with three native grape varieties, though none on the label. [GWU$20]
Erika Strum tastes a still xarel.lo, a component of cava, from Alert i Noya [StrumErika]
Wilf tried a dry Tinta Barocca from South Africa where it is "practically considered indigenous." [Wilf's wine blog]
Jens tastes a Chateau Musar blanc from 1998, writing, "it doesn't get much more indigenous than this." [Cincinnati wine warehouse]
Richard A. goes with a tannat from Uruguay, the 2002 Vinedos de los Vientos Tannat ($23). He liked. Too bad that he didn't also go for the tannat two-fer especially after admitting the grape is from France! [A passionate foodie]
Jeff, Indy resident, ended up trying two hybrid wines from Stone Hill winery in Missouri and writes that one is in the "Midwestern semi-sweet style"–is that a new term for labels, Jeff? 😉 [Goodgrape]
Michelle and hub wanted to go American so they chose a Charbonel from Simmons Winery in Indiana. They rated it a smiley face. [wine-girl.net]
NYCwinenotes tries a Touriga Nacional, bargain variety, from the Dao. While he liked the idea of exploration, the wine left something to be desired. [NYCwinenotes]
Lenn goes hybrid (without a Prius) by drinking the 2006 Keuka Village White from Ravines Wine Cellars in NY's Finger Lakes area. He calls the wine "absolutely balanced, fresh and delicious"–and at $12, that would be a steal! [Lenndevours]
Lia writes about Sonoma chardonnay (whoops, violating the rule to avoid the "big six") but she makes it a clone 4 and writes about its cultivation. Sadly, no tasting note! [Swirling Notions]
Lauren walked over to Harlem Vintage from Columbia and found the 2006 Craftsman Kiralyleanyka (Hungary, $9.99). She liked! [Walling Road]
Dave had fun with photoshop (he also did a nice mashup for this WBW) and they have another one with Stalin for their detailed write-up of Saperavi Mukuzani from Georgia. [Avenue Vine]
Paul Arthur made a sentimental choice writing up the Boutari Moschofilero 2006, since this is his first WBW and Moschofilero was the first wine he ever remembers having. [Flowerysong]
Kathleen goes with another NY wine, the Traminette, from Goose Watch Winery in Romulus, NY. She tried it with her club and liked the aromas. [Kathleen at Mayspace]
ChateauBrys also tried a pinotage the Tukulu 2001, which they describe as "intense." [ChateauBrys]
Wine for Newbies has a podcast of their contribution–click thru to listen! [WfN]
Sure Courtney choses two wines from her native New Zealand made from "Flora," which, by her own admission, is not indigenous but off-the-beaten path. [Sue Courtney]
Carol tries a carmenere from Chile, which, by her own admission, is not indigenous to Chile. [CelebrateWine]
Marissa tried a xinmovaro from Greece, though it was blended with merlot and syrah. [D'Vari]
Finally, I tried a Touriga Nacional–in fact three of them–in situ, the Douro! I thought two of them were excellent. [Dr. Vino]
(image)