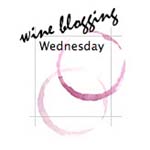 Just a quick reminder that I hope you are getting ready to "go native" one week from today!
That's right, I've chosen the theme of indigenous grape varieties for this month's theme. So you still have a week left to select, drink and write a brief tasting note about your wine made from an indigenous grape variety. Bonus points are available for those who drink said wine actually IN the region and even more bonus points can be yours if you do a comparison between old and new. The "big six" grape varieties are banned. Get the whole scoop in the original announcement.
So what are you waiting for? Get your agioritiko into gear!
See more about Wine Blogging Wednesday