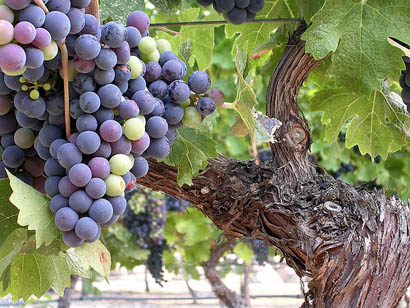 Say goodbye Chardonnay and hello Falanghina! Or Romorantin! Mencia or, heck, Moschofilero! If you have just been waiting to venture off the beaten path, now is your chance to try an obscure grape variety from it's homeland! The justification is the 37th edition of the internet wine juggernaut known as Wine Blogging Wednesday and our theme is to "go native" and try an indigenous grape variety!
Italy alone claims to have 2,000 of them. Spain has many, Portugal maybe even more. Greece is a hotbed of all things ancient, including some grape varieties that are coming back. And even the good ol' USA has Norton and Scuppernong!
So here is your assignment, should you chose to accept it: sometime between now and September 12, pick a wine made from a grape variety that comes from a place it might call home. Taste it and write up a tasting note (our translators are standing by for foreign language contributions!) on your blog on that day mentioning your involvement in WBW and linking here if you choose. If you don't have a blog but would still like to participate, then feel free to email me your notes. Then I will round up all the posts and notes, linking back to you, and we will have a giant list of wines from off the beaten path that are hopefully fun and delicious.
Some suggestions, prohibitions and outrageous bonus points opportunities:
France is the homeland to many grapes, so if you decide to venture there, skip the big six grapes (Riesling, Chardonnay, Sauvignon Blanc, Cabernet Sauvignon, Merlot, and Pinot Noir) since we're trying new stuff. That still leaves plenty of things to try from la belle France.
There are many resources available to find out more about grape varieties. Appellation America has a witty, pictorial guide. Steve De Long has his beautiful Wine Grape Varietal Table (for a quick and dirty list, check his Wine Century Club form). And with a regional focus, the current issue of Food & Wine has a story by Ray Isle on "12 (Italian) grapes that are essential to know." Feel free to post links to more resources in the comments.
Major bonus points will be given for either of two things. First, to anyone who drinks said wine IN the place where it is grown. Second, if you pair a grape from two growing areas including the ancestral home AND a new home (e.g. malbec from Cahors and Mendoza) you will win even bigger bonus points. Just what these bonus points accumulate to has not been decided and, like airline miles, they are susceptible to devaluation at any time. (Bonus points will probably be some form of additional bolding, gold stars and heaps of respect and admiration.)
So happy tasting and I look forward to your notes on September 12!
(image)