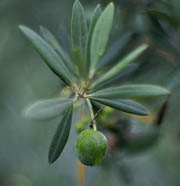 We wine tasters are not the only ones tasting under blind conditions–consider this excerpt from the excellent August 13 New Yorker article about fraud in the Italian olive oil market. But we're more social, since many wine tasting panels don't isolate tasters in cubicles but actually welcome discussion among the tasters. Also, I'd gladly slurp–sorry, do a strippaggio–with wine instead of EVOO any day. To Italy, after the jump:
The Mastri Oleari's tasting room consisted of eight cubicles, which isolate panel members to prevent them from influencing one another's judgments. (The panel leader, who coördinates the team, often does not taste the oils.) Each cubicle contained a sink, several tulip-shaped tasting glasses with lids to trap aromas, and a yogurt-maker with a thermostat, used to warm the glasses to twenty-eight degrees Celsius, the temperature at which the aromatic substances in the oil are volatilized, making it optimum for tasting.

By 10 A.M., the panel members had arrived, grumbling about having been deprived of their morning coffee and cigarettes, which are forbidden before a tasting, because they dull the senses. The group included, in addition to Zaramella, a thirty-three-year-old olive miller from Lake Garda and a forty-seven-year-old Tuscan marquess who worked as a personal motivation coach. After Zaramella's assistant had poured the oil samples into the tulip glasses and warmed them, the panelists entered their cubicles. Cradling the glasses containing the first sample in their palms to keep the oil warm, they removed the lids, inserted their noses, and snuffled loudly, some closing their eyes. They sipped the oil, and began sucking in air violently, a technique known as strippaggio, which coats the taste buds with oil and helps its aromas ascend to the nasal passages. After the first volcanic slurps, the strippaggi grew softer and more meditative, and took on personal notes, the marquess's wheezy and almost wistful, Zaramella's deep and wet, as if he were gargling Epsom salts.

The tasters remained in their cubicles for the next hour, snuffling and slurping, and periodically cleansing their palates with mineral water. After sampling each oil, they rated its tastes, aromas, texture, and other characteristics on a scoring sheet. The panel's leader, Alfredo Mancianti, collated the sheets, and assigned a score to each oil based on the tasters' judgments. The Mastri Oleari panelists were remarkably consistent, agreeing not only on the subtle flavors—artichoke, fresh-cut grass, green tomato, kiwi—suggested by the oils but also on their intensity.
It's a fascinating article with the author speculating in the conclusion that establishing a "Made in Italy" premium will only inspire more fraud….Good thing there's no fraud in the wine biz!
(image)