Unoaked chardonnay is all the rage. When wine drinkers started dumping oaked California chardonnay and turning to unoaked, fruit-forward whites such as pinot grigio and sauvignon blanc, they threatened to throw the baby out with the oaky bathwater. But chardonnay has lived to see another day in its new, unoaked form.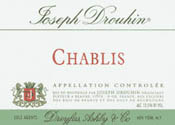 But is it new in the Old World? In Chablis and various parts of Burgundy, the chardonnay grape often sees little oak. So when Lenn, the grandpappy of Wine Blogging Wednesday, assigned us unoaked chardonnay for this 36th, anniversary edition, my thoughts turned to Chablis. But which of them is made totally without oak as opposed to simply old, neutral oak?
I'm not sure about that, but I managed to find one that is fermented in stainless steel: Drouhin Chablis 2006, about $17 (find this wine). The resulting wine is lean and light, with good acidity, notes of lemon, lanolin and minerality with a retrograde 12.5% alcohol. It's a very pleasant for summer wine.
Head on over to Lenndevours.com for a roundup of unoaked chardonnays from other participants in this edition of Wine Blogging Wednesday.