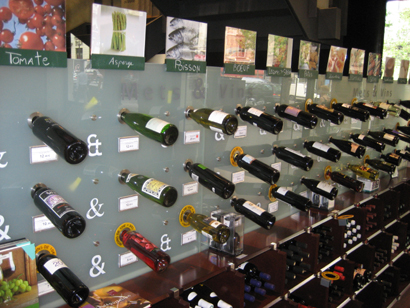 I have been meaning to write up a few Paris odds 'n ends from our recent family trip. They're a few wine related, and a few that aren't.

Great carafe: Le Comptoir du Relais. We enjoyed a great lunch (excellent salads all around) at Yves Camdeborde's hot spot right by the Odeon. The wine highlight was a one liter carafe of "KO" Puzelat cabernet franc for 15 euros! (find this wine) Amazing. It's pretty much gone from NYC where the wine was available for $23 a bottle in a store, making that carafe all the tastier. If only US restaurants could have this quality of wine this cheap. Sigh. (6th arr; 33 1 44 27 07 97)
Great lunch: Chez Michel. Thierry Breton cooks the food of his home region, Brittany, in this homey place in the shadow of a church near the Gare du Nord. We had excellent white asparagus, mouthwatering clams and mussels cooked in a rich, herbed broth, and the largest–and very tasty–rice pudding I've ever seen. Solid wine list. Prix fixe: 30 euros. (10, Rue Belzunce, Paris 10e – +33 1 44 53 06 20)
Great wine shop: Caves Augé Manager Marc Sibard stocks some great bottles in this cramped shop (now actually owned by the same owners as Lavinia). The emphasis is on natural wines and it is a treasure trove for wine geeks. Be sure to ask for things if you don't see them since there is also a large storage area in the basement. Great spirits selection, particularly Armagnac. Read more from my visit last year. And be sure to check out their blowout tastings with producers in the spring and fall. 116, Boulevard Hausmann, Paris 75008

Another great wine shop: La Derniere Goutte. American owner Juan Sanchez presides over a small but well-chosen selection of wines from the growers themselves, including Champagnes. He has weekly tastings with visiting producers on Saturday afternoons. And being a good American, he opens the shop on Sundays. English spoken by everyone in the store. 6, rue de Bourbon le Chateau, 75006 Paris
Best falafel sandwich: l'As du falafel (rue des Rosiers, Le Marais). Great street food, which made me want to sit down and pair it with wine. 4 E 50. I tried come of the competition on the street and the lines in front of l'As are there for a reason.
Best ice cream: Berthillon. Though the now ubiquitous "Amorio" chain does a nice job, their floral presentation of the gelato seems to have slipped since last year as the number of outlets have increased. We tried a chocolate and a mint from Amorio and Berthillon on the Ile Saint Louis and Berthillon won each category. Deep dark chocolate! Fresh mint! A no-brainer. Although the original Berthillon store is closed most of the summer (!), the ice creams are sold throughout the city through various resellers.
Best mille feuille pastry in Paris: Pierre Hermé. Mrs. Vino and I were lamenting the downgrading of the mille feuille pastry as it no longer appeared to have quite the "thousand" layers of its billing. Thanks to a tip from our friend Mike, who is a Pierre Hermé junkie, we discovered their deux mille feuille–inflation! Swallow your pride about not wanting to look like a touron (tourist-moron) and ask for a fork. See if you can make it past the square in front of the church St. Sulpice before you tuck into this absolutely delicious treat. 72, rue Bonaparte 75006
More of my wine odds 'n ends from Paris and France.
Some of these places may be closed in August.