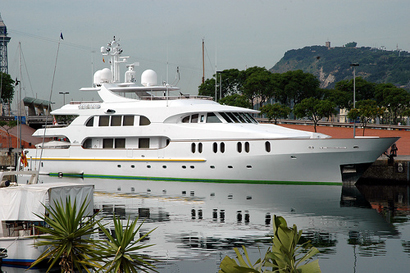 Billionaires are the new millionaires. Take Steve Schwarzman, head of the recently IPO'd Blackstone from his profile in NY mag last week:
Steve Schwarzman is a perfect poster boy for this age of greed, sharklike, perpetually grinning, a tiny Gordon Gekko without the hair product. In Palm Beach (where he bought a historic landmark house for $20.5 million and tore it down), he eats his three-course lunches (including $400 stone crabs) in less than fifteen minutes and complains about the squeaky rubber soles of a servant's shoes. Once, in the presence of a Times reporter, he buzzed a man to bring coffee, then stalked off to dress down the servant—"I called you six times."
What was more urgently missing for us in these lunch details–more urgent than the missing staffer–is any info on the wine involved. Steve Schwarzman may not even be a fan of the fruits of the vine for all I know, but this raised an interesting question to me: if price were no object, would you ever have a wine under $30?
Life could get tiresome pulling yourself out of your pool in the Hamptons only to find a Eurocave stocked with Haut Brion blanc, Puligny, and Krug. OK, maybe not.
But even if a billion dollars were to fall from a helicopter out of the clear blue sky on to my private Caribbean island, there are still some wines under $30 I wouldn't do without. They tend to be light summer wines, since I believe in pairing the mood and the moment, and cabernet and the beach make for a terrible pairing. So air-drop me some of the humble rosé. As I have mentioned previously, I enjoy rosé in the summer and get grumpy paying much over $15 for it. In warm weather, on the deck overlooking the infinity pool, it's an A+ wine and context pairing.
Cru Beaujolais? Love it. Wouldn't want to do without some Fleurie or Morgon on my island either.
What what about the wonderful diversity of lesser-known, "indigenous" varieties? Mencia? Mourvedre? Aglianico? Ribolla Gialla? Maratheftiko? Or distinctive regional styles, such as Muscadet, Moscato d'Asti, Txacoli, or fiano di Avellino? I'd toss some of these into my climate-controlled wine vault to mix things up between bottles of Cornas and Cabernet.
After Frank Bruni's tales of wine-fueled excess in NYC's top restaurants, I'm sure that if there's one time frugality (and restraint) should kick in, it's on the fifth bottle.
Certainly billionaires come in as many stripes as there are shades of wine and there's no doubt even a frugal billionaire or two out there. And, of course, everyone's entitled to drink whichever wine floats their proverbial yacht–my own private island would definitely have plenty of magnums of Montrachet as well as some value vino. Which wines under $30 would you not throw under the bus, er, Ferrari?
(image)