Darrell Corti has banned the sale of high alcohol wines in his food and wine emporium in Sacramento, CA according to a story on AppellationAmerica.com. Corti says:
At our store, after a tasting on the 29th of March, I put on top of the Zinfandel section, "This is the last tasting Corti Brothers will do for over 14.5 percent Zinfandels. These wines will no longer be sold at Corti Brothers. There will be no exceptions…They (high alcohol wines) make you very tired. My idea of a really good bottle of wine is that two people finish the bottle and wish there was just a little bit more. Some of these wines with high levels of alcohol — you can't finish the bottle. You don't want to finish the bottle."
What do you say? Is Corti a hero or a villain?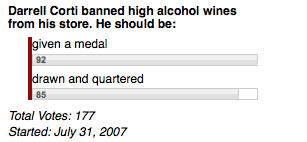 poll now closed