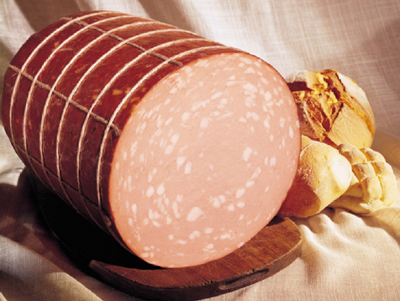 There's a funny gag in the indie movie Scotland, Pa. where Christopher Walken, playing a (vegetarian) detective, is gently interrogating a suspect. The suspect receives a Styrofoam cup of horrendous coffee that he nervously sips during the interrogation. Finally, after what is his third sip or so, he blurts out something to the effect of, "why do I keep drinking that stuff!?!"
When the whole Vino family grabbed panini at 'Inoteca recently, that was about the reaction of Mrs. Vino to my glass of lambrusco, purple fizzy wine. Dry tannins on the finish and a grapey quality made it not exactly her cuppa tea–or glass of wine.
Why? Although the wine was on the tannic side, I think it has to do mostly with food pairings–lambrusco craves meat. Mrs. Vino is a vegetarian.
"It would be great with mortadella," I suggested, knowing that was going nowhere.
"Mozarella?"
"No, some bologna-like meat thing from Emilia-Romagna."
Bottom line: dry lambrusco, like dry rosé, could be a wine that depends on context for maximum enjoyment. And that might just include a meat pairing.