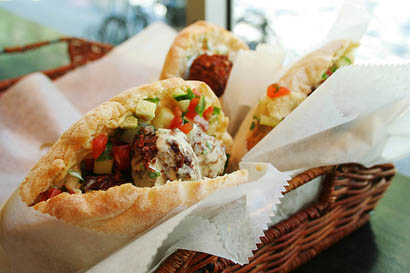 Continuing our fine, week-long tradition of "impossible food-wine pairings" (see chips n salsa), we pick a food that we eat here in Amurrica and you decide what to pair with it. And today's contestant is:
Falafel sandwich!
Two reasons. First, I had a such a terrific falafel in Paris a short time ago at L'As du Falafel in the marais. Great street food. So great that I thought (in one of those delusional traveling daydreams) about opening a chain of falafel shops back home.
Second, it turns out I was not the only one having such daydreams. In the Financial Times last week, James Altucher threw out a business idea of his, which is to open a national chain of falafel shops to capitalize on the phenomenal demand for good falafel seen in NYC. So we're clearly on the front end of this food trend. Which means…we have to know which wine to pair with it!
Comments are open for your suggestions (and which falafel joint is your fave?). Please note this is not a meaty shwarma but the fried chick pea, hummus, lettuce or purple cabbage, chopped tomato, possibly eggplant, possibly onion, and white sauce version in a pita. Wow, after writing that description, I'm in need of lunch!
(image)