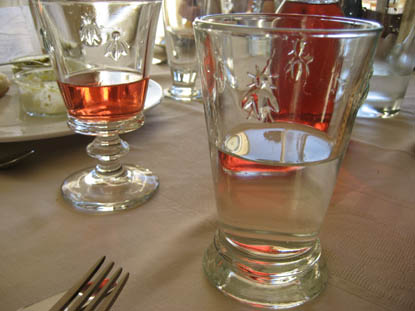 OK, which wine category is hot? Sooo hot? As in up 39 percent nationally for the first six months of this year? That's right, folks, we're talking about rosé! Dry rosé!
Just as America is warming up to dry pink wine, Papa Bear Eric Asimov tells us it's jumped the shark. It's over. Before it even began! Rosé, we hardly knew ye! EA cries out for rosé therapy on his blog:
But doc, why am I so unhappy about rosés? I don't want to buy them. I don't want to drink them. I don't hate them. I'm just not interested. But I know I'm supposed to care. That is, I'm supposed to be carefree, which is the proper attitude for rosés. You know, lunches in Provence, tapas in Spain, let the rosé flow. But I'm not carefree about rosé. I'm grumpy. What's wrong with me?…I hate to be a killjoy, doc. Isn't there anything you can do for me?
Don't be grumpy, Eric! Just get into the vibe! Although I'm not the kind of doctor you're looking for, here are some tips for starting to think pink:
1. Context matters: rosé could be the ultimate wine where context matters. When it's hot, chill it and have it on the deck, at a sidewalk cafe, under a tree, in a hammock–wherever there's no air conditioning! The hotter you are, the better it will taste. 😉
2. A halfway house for whites and reds: dyed in the wool partisans of whites and reds may not often overlap but rosé may just prove that common ground.

3. Tired of serious wine? It's a quaffer, easily downed. Refreshment is key. Rosé is almost a state of mind more than it is a wine. (Is this sounding New Age-y yet?)
4. Food friendly: high-acidity dry rosé pairs with a lot of foods, including some hard ones like salads and gazpacho and, of course, anything meaty.
5. Wallet friendly: I'd be grumpy too if I paid a lot for rosé–$15 is my max. This is the first press of some wine or from red vines that aren't mature enough to do anything interesting so there's an economic argument for it's being cheap too. Last summer when we were in the south of France we got a 5L box of the hearty Bergerac rosé for 12 euros, which brought down our per glass costs to practically nothing. It makes you extremely generous when the wine is always cold and your per glass cost is less than a postage stamp–and wine is for sharing!
Some of my favorite dry rosés from this summer:
* Chateau Peyrassol. At $17 it is in my grump-zone, but still very nice light Provencal style. (search)
* Commanderie de Bargemone: Yummy, fresh strawberry notes, good acidity and $12 (search).
* Domaine Houchart (St. Victoire): This wine just makes me think about lunch, outside under an umbrella. $15 (search)
* Domaine Sorin, Terra Amata (Cotes de Provence): Sustainably grown; wonderful with fried calamari (search)
* Chateau d'Aqueria (Tavel): Darker in color and bolder in taste, this is a good one for enticing people from the red side as I did last weekend with a guy who "only drinks red." Though at $17, it's into my grumpy price range (search)
* Bodegas Muga (Rioja): easy to find, this one is an even better value at $10 (search)
* Bernard Baudry (Chinon): pleasant, but a tad too serious for mindless summer fun with it's dollop of minerality (search)
Preppy is back. Drink pink.