* Slow Food Westchester: July 25, 6 – 8 PM. I'll be helping out with the inaugural event for this chapter (convivium). We'll taste seven great wines that also happen to be some hue of "green." Plates restaurant, Larchmont, NY. $40, reservations necessary. Call Plates to reserve: 914.834.1244
* New York University: Buying and Cellaring, three sessions starting on September 25. Register here
* University of Chicago: Buying and cellaring liquid assets: one monster session, September 29. Register here
In both of these new classes, we will examine the red hot wine market. We will discuss where to buy wines, where to sell, how to store, and when to consume wines. In the longer, NYU course, we will devise a buying strategy for your budget and storage conditions and I hope we'll be able to do the same in Chicago, even though the time is more limited. Both NY and Chicago will have tastings of collectible wines so be sure to sign up–especially, since the people enroll, the bigger the tasting budget is!
* New York Unversity: Becoming a Wine Expert. Six Wednesday evenings, starting October 17. Register here
This spring, one participant in the course said that he had waited two years to get into the class — I hope it was worth it! This, my core class, has the enrollment limited to 25 because of space limitations at the Torch Club.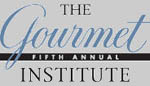 * The Gourmet Institute: New York City, October 19-21. Register here
I'll be participating on the panel "Eat the Web: Blogging's Effect on the Food World," moderated by Ruth Reichl. It's very expensive (think two iPhones) but there are all those celebrity chefs whose food you can eat!
And I'm trying to coordinate an offline meetup, hopefully for next week…More on that very soon.