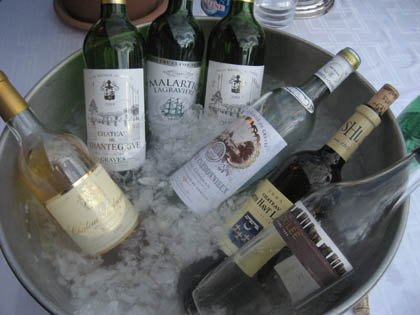 * Water cools faster than air. For urgent chilling needs: bucket, ice, cold water, and some salt. Dunk bottle. Or try one of those sleeve things, which are also very good.
* Small pours. When it's hot out and the wine is cold, just do small pours since wine in the bottle keeps colder (see above). If cold is your goal, that is (see next).
* Experiment with temperature. Of course, some whites can be served too cold, which closes down the aromatics. Try chilling some young reds with higher acidity, such as sangiovese or Beaujolais.
* Think light thoughts. Save the cabs for winter by the fire. On the deck, go for whites when you're not drinking rose.
* Think pink. Cast aside any lingering prejudices and catch the hot wine of summer, a dry rosé. They are so food friendly and offer something with more substance than a white. I like ones from Provence, such as Domaine Sorin, but they actually come in a range of styles.
* Venture off the beaten path. Try a Soave (much improved in recent years; try Pieropan). Or a Moscato d'Asti (sweet, lightly fizzy dessert wine; try the Giovinale). Or a lambrusco (purple or pink fizzy wine such as the Vezzelli). And those are just some Italian ideas!
* Put the stem in stemware. Try the "impact resistant" crystal glasses from Schott Zwiesel. Sure beats Solo plastic cups! If you do have to drink en plastique, try to make it thin and clear. (Note: the crystal glasses are impact "resistant" not "-proof")
* Forget the corkscrew. Go on a hike or a boat and leave the corkscrew behind–choose a wine with a screw cap or possibly even in a TetraPak (lighter to carry back out empty). Or go for the ultimate no-corkscrew-needed wine–champagne! (Caution–not so great on hikes though.)
* Hit the sauce. It can be hard to match the sweetness of BBQ sauce. Try a sweet red fizzy wine, the Sangue di Giuda by Verdi (find this wine).
* Cocktails without corn. OK, this is a wine web site, but if you're doing a gin and tonic, you can either make your own tonic water or buy a new brand, such as Q tonic, which is made without high fructose corn syrup. Taste the difference.