"Do Americans have a wine cellar?" runs an old industry saw. "Yes, it's called the back seat of their car on the way home from the wine store."
True enough. Virtually all wine bought in American gets uncorked (or uscrewed) within a very short time after purchase. And at no price point is that more true than under $10 wines. So for today's Wine Blogging Wednesday assignment of finding a Spanish wine under $10, I thought I'd try the impossible: an under $10 wine with some age.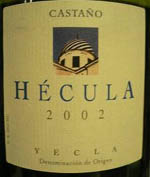 I dug around the Dr. Vino cave, and came across a bottle of the Castano, Hecula, 2002. Since I bought it for $7 about three years ago, I had low expectations that the wine would still even be good. But it was a Tuesday night, so what the hey.
Wow, was it good, perhaps the most rewarding under $10 wine I've had in a long time. Alluring notes of grilled meat drippings, leather and tobacco permeated the aroma and the wine actually had an attack, a midpalate, and a lingering finish. While five years of age is just warming up for most more expensive and age-worthy wines, this under $10 wine may have been particularly long lived because of the grape variety, monastrell, aka mourvedre in the south of France. In a tasting last fall of this big red grape, I found that I preferred the wines with some age on them to blow off some of the gamey, animale character.
The sad news about this wine is that it was my last bottle. A quick price check showed only a few vendors with it available, and now they want $14, double what I paid for it three years ago. A sign of the times, for popular Spanish wines.
Check out wine-girl.net for the full WBW round-up of good value wines from Spain.
Related: "An open letter to Jorge Ordonez"