In my post-LiveEarth stupor, I decided to click an ad on a web site for The Green, a new TV program about environmental issues.
They have five "eco ideas for greener living." Since the show is sponsored by Lexus, I found tip three amusing: "When choosing a chauffeur or a taxi service, consider a luxury car service that relies on a fleet of hybrids." Uh, huh.
But tip number five was interesting in it's claim: "Try an organic wine with dinner. These wines come from farms that practice eco-friendly techniques and produce superior results."
Aside from the fact that it is difficult to legally call a wine organic (because of the addition of sulfites), what are "superior results"?
Have your say about "green" wine!*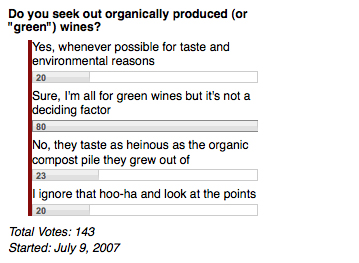 poll now closed
The Green, Sundance Channel.
* "Green" wine is my catch-all term for the various shades of green: sustainable, organic, and biodynamic wines.