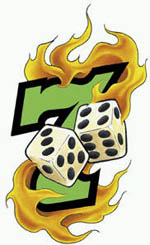 With the 2006 vintage getting a cool reception from consumers who binged on the 2005s as well as the press, thoughts here in Bordeaux are already turning to the 2007s.
The only trouble is that a string of vintages ending in seven have all been bad or mediocre: 1967, 1977, 1987, 1997. So if we were to bring the Da Vinci Code to Bordeaux, what would the numbers tell us?
One chateau owner I spoke with about it said that the string of unlucky sevens has to break this time around. Since much relies on the weather, it will be a roll of the dice.