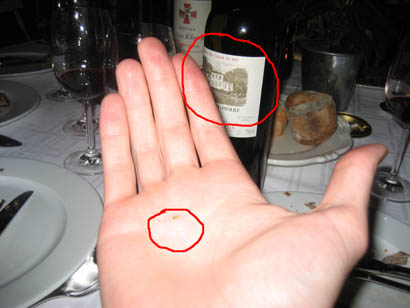 Weather. It's probably not something you talk a lot about except for when you are trying to have polite conversation with your aunt at the family reunion. But for wine grape growers it's a point of discussion.
And this year has been wet in France. The total rainfall hasn't been astronomical but it's just rained almost every day for the past six weeks and there's a lingering humidity. Take Vinexpo: it's been mostly sunny but it has rained at some point during every day that I've been here.
one evening, a fierce storm came out of nowhere and included golf-ball-sized hail. I grabbed one from outside the tent where I was finishing a wonderful dinner and snapped a bad pic. I circled the big hailstone above. Also of note in photo: Chateau Saint Pierre 2002. Mmmm.
And it's been damp all over France. I was talking with Nicolas Joly from Savennieres in the Loire and he said that he had never seen the vine flower this early.
What does all this mean? Well, perhaps not more than some wet raincoats. But at some point, a string of sunny days would be good to dry things out. But in hoping for heat, you have to be careful what you wish for.