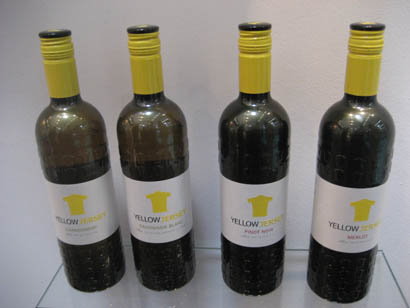 Vinexpo is a time that a lot of wine producers launch new products. Perhaps one of the most experimental producers is the Burgundy-based house, Boisset. They brought the world French Rabbit in TetraPak a year or two ago. Their stand was packed looking at their new releases.
Yellow Jersey is a new wine (not yet available in the U.S.–but maybe one day, find this wine). A screwcap rests atop a plastic bottle with little raised jerseys. Given the recent scandals with professional cycling, one might wonder if the bottle itself has been "juiced."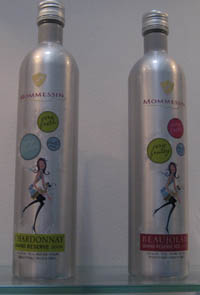 And under the Mommesin brand, they have Beaujolais in a can, ready for chilling. They wrote "Grande Reserve Red" on the can so that people in the store would know what it was that was on the shelf in front of them. There's also a chardonnay from Macon-Villages.
A little over three years ago they bought the Sonoma brand De Loach out of Chapter 11. They have ripped up all the vines on the 22 acres surrounding the winery and have let the vineyards lie fallow in a conversion to biodynamics. They've just been replanted with pinot noir and chardonnay.
Their packaging innovation continues with an pinot noir from the Sonoma Coast vineyard, Sonoma Stage. Only 150 cases of this pinot noir was produced and 10 of them have been bottled in Stelvinlux, a sort of fancy screwcap. While some consumers might not be able to swallow the $85 price tag, at least the pinot noir in the bottle actually tastes like pinot noir, unlike many from California these days.