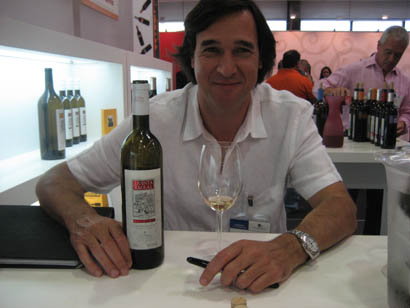 On the shuttle into town on Sunday I sat next to Pedro Araújo. We were chatting and then as I was wandering the hall I saw his stand. I went over to taste.
He has two wines that he makes organically in northern Portugal on the banks of the Lima River. The area is known for vinho verde, which is grown with ripping yields of 15 tons per acre he said. Araújo rolls in at not exactly miserly six tons but makes two wines that are worthwhile.
The first is the 2006 Loureiro fermented and aged in stainless steel. It's clean, fresh with a pleasant minerality and verve. (find this wine)
The 2004 Escolha (meaning "selection") sees a little oak yet retains the minerality and fresh lemony acidity under the oak. I preferred the first wine slightly more. (find this wine) He also had brought a 2001 Escolha to show the aging potential of the wine. Unlike a traditional white wine from the region, Iit was still fresh with only a hint of oxidation.
I'd love to say the first wine is a good value since Araújo told me that he sells it form the winery for 3.20 euros (about $4.25). But, sadly, the 2005 is only available in US stores for $15.
Importer: Eric Solomon.