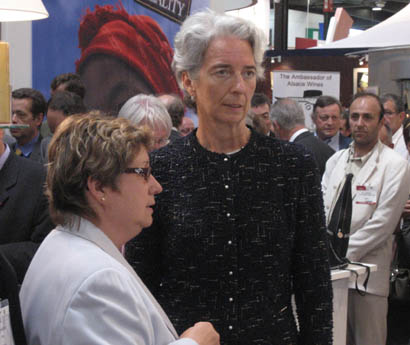 This morning was the official opening of the show. Two French cabinet ministers were in attendance. Or make that one, actually, since Alain Jupee did not win yesterday in his campaign for parliament, and thus resigned his ministerial post.
Above is Agriculture Minister Christine Lagarde. In the tradition of French politicians, she has to go and talk to the farmers, in this case, winemakers. I didn't see her taste anything. But she did hold up a bottle of Burgundy admiringly.
Roundup:
1. The Moldovans are here!
2. They need more sandwiches–lines 20 mins long.
3. Still have not made it to Hall 3 yet. In fact, have not made it to the second half kilometer of Hall 1 yet.
4. The $500,000 pontoon bridge is hot.
More soon!