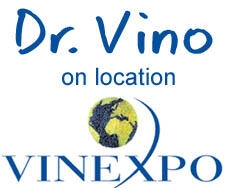 I made it! A plane, a train and an automobile managed to bring me to Bordeaux for the big wine trade show, Vinexpo.
I've already found my way to the press area with the wifi so we're up and running! Stay tuned for live reporting from the show now through Thursday. Next up: St. Emilion Grand Cru (or, fka Grand Cru Classé) 2006 tasting.
It's big. The main exhibition hall is one kilometer long and 100 meters wide. There are 2,400 exhibitors and about 10,000 visitors expected each day.
I chatted with Ed Lauber, the New York-based importer who has attended every Vinexpo for the past twenty-something years–including the pre-air conditioning era.
He said he keeps coming back since "this is a people business" and he enjoys networking, at lunch and around the show.
Wine. People. That sounds about right.