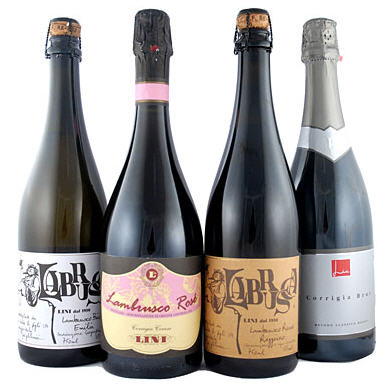 Some might think Jim Hutchinson and Jeremy Parzen wacky: they are importing lambrusco after all. If you remember lambrusco, it might be from the cloying Riunite whose marketing department declared "on ice…so nice." (As recently posted in a comment, with video!) Ack.
So why lambrusco? Because it's actually great stuff, fast on its way to becoming my Wine Of The Summer 2007. That's right, purple fizzy stuff.
It's great on a deck, with food, especially mortadella, a specialty also from the Emilia-Romagna region. And at 11 percent alcohol, it's light and refreshing. One writer I was talking with about lambrusco said it's kind of like the old Schaefer beer whose slogan was "the beer to have when you're having more than one."
Jim, Jeremy & Co (formally known as Domenico Valentino Selections) are importing lambruschi–or lambrewski if you prefer–from one producer, Lini. They are available at the wine shop Vino, I Trulli restaurant and the hipster wine bar and stealth restaurant Centovini in Manhattan. These boutique wines bear no resemblance to the mass-marketed lambruscos.
The white is fun. The dry red has great red fruit, vigorous bubbles, and some serious tannin–it is more fun. But the real winner in my view was the dry rose. It has a beautiful delicate notes of cherry and strawberry and good acidity.
So chill, pop, nosh, and enjoy the new wave of lambrusco. And like a beer, there's no corkscrew needed!
Related:
New York wine shops, a map
New York wine bars, a map