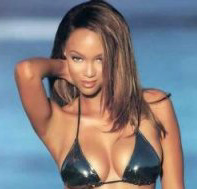 It's a tough week for fashionistas (and it's only Monday!). Paris Hilton is in jail. And Tyra Banks doesn't like wine but orders it to look sexy. Roll the tape from her personal website [via M&C]:
I recently went to Napa, California, and I learned how to pair wines with certain tastes, how red wine tastes good with salt and bitter things like lemon. So, every now and then I'll order some wine at the table. I'll only take two sips, but I'll keep holding the glass cause it makes me feel sexy, but I still don't drink it because it still tastes kind of nasty to me. (emphasis added)
Wow, the classic pairing of red wine and lemon–no wonder the former top model thinks wine's nasty! Help her out with some newbie wine suggestions in the comments. I'd start her off with a sangria if she wants to give red wine with citrus another try.