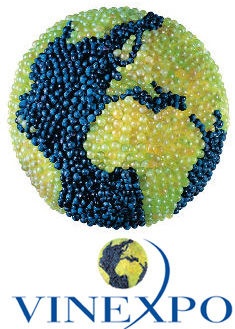 Did you know that the world had turned into a planet of the…grapes? Nor did I until I checked out the Vinexpo 2007 logo.
Yes, I'll be in Bordeaux (somewhere between a green grape and a dark one) the third week in June covering the massive wine trade show. Given that I have previously written that France is a wine lover's paradise yet an internet purgatory, I can only hope that the press tent will have wifi since I know there will be plenty of wine.
I've bought my plane ticket (ouch!) and am bracing for the full, sobering effect of the dollar's decline. Ack.
The hottest place in the wine world in mid-June may also have high temperatures. The last time I attended, during the heatwave of 2003, almost 50,000 people packed into a series of exhibit areas that had little or no air conditioning. (Now they could do it in the name of reducing their carbon footprint.) Mmm, hints of barnyard aromas in the wine? Try: hot convention center.
This time, I'll be able to taste some 2006 barrel samples from Bordeaux and will be on the lookout for some of the yummy 2005s. All with the goal of keeping you informed, dear reader. But with more than 2,300 exhibitors from 43 countries, there will be a lot of swirling, sniffing–and spitting! More anon!
Related:
Vinexpo.com
"Tasting sized notes from Vinexpo 2003" [Dr. V]