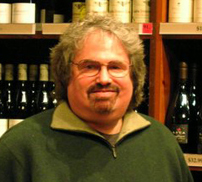 We all know that Robert Parker's The Wine Advocate essentially sets the market for wine. But how do the critics there taste the wines that they will make or break with their ratings?
Last week I had the chance to taste with Jay Miller, Ph.D., whose duties include vast swathes of the wine world ranging from Australasia to Iberia to the Pacific Northwest. I met with him to taste wines of Argentina. Dr. Jay and Dr. Vino, mano a mano. Or at least Riedel a Riedel.
I didn't have to travel to Monkton, Maryland. The setting was actually the Argentine Consulate in midtown Manhattan. I walked into the palatial room, which must have been 40 x 25 w 12 ft ceilings, complete with friezes. On one side, Jay Miller was seated at a table with two settings. On the other side were hundreds of wine bottles, even more hundreds of Riedel glasses, and a small flock of people to pour.
Miller paused in his tasting and rose to greet me. A place had been set for me to his right. I had no idea it would be just the two of us. I arrived at 10:05 for the 10 AM tasting (I figured that was on time–if not early–in Argentina) but he had already almost tasted his way across the northern region of Salta, which specializes in the white grape torrontés.
The helpers traversed the room bringing two samples for him and me at a time. They brought the bottles over and placed them in front of him for his inspection. There was a notebook with information on importers and retail prices on the table. The PR woman who coordinated the tasting then launched into a freewheeling disquisition about the winery. We then would taste the wines, often going from chardonnay to malbec, sometimes via rose and syrah only to start with the pinot noir from the next winery.
After an hour and a half of this ping-ponging of wine styles, I had to inquire why the PR agent had set up the tasting like this instead of by stylistic flights. She said that she wanted "to show each winery's DNA." She asked how I would have done it and I said I would have organized it by style, tasting some whites, roses, entry-level malbecs followed by mid-level malbecs and so on. I turned to Jay Miller to ask if this was how he normally tasted. He said this is how he tastes "since it's easier to write up by producer afterwards." Case closed. Back to the sauvignon blanc-syrah roller coaster.
At one point the an Economic Affairs official at the consulate–who also did a stint pouring–rushed in holding his Blackberry in his outstretched hand. "Dr. Meeller–do you know Clarin? It's the most important paper in Argentina. In fact, one of the most important newspapers in the world. I have a journalist here from them and she would like to speak to you about the wines of Argentina."
Jay Miller took the call. He praised Argentina for having different wines in the face of an obvious grilling about the inevitable comparisons with Chile, pointing out the distinctiveness of malbec, bonarda and torrontes (who knew he liked whites?!).
Anyway, on our tasting went for three hours. At one point I lamented the quantity of wines and he replied "well when you've been working for Bob Parker for 25 years, you're used to it."

He did not offer in what capacity this was although he only started as a critic last fall. He actually holds PhD in psychology and was a clinical psychologist from 1973 – 1998 ("by the end of it, 2/3 of my work was filling out forms," he said, implying he left out of boredom). He said he started a side career in the wine biz in the mid 80s working, first for a retailer and then a wholesaler, eventually opening his own shop, Bin 604, which he said he has sold (though the web site still sports some goofy pictures of him). He also mentioned being a former partner in some Baltimore restaurants.
It's not my intention here to scoop his scores–the newsletter with his scores and write-ups will appear in late August. But I report on this since I had little idea about the specifics of how tastings happen at the influential Wine Advocate. I didn't know they were organized by producers or their agents. I didn't know they were not tasted blind and were tasted by winery, not style. And I was surprised at how we basically had no discussion about the wines themselves, essentially having our own separate, parallel tastings. Maybe that's because he didn't know me but it could also be that it's uncomfortable to talk about the wines in presence of the third party PR person, even if she did repeatedly ask for Miller's instant evaluation.
I'll have something more to say about the wines in future postings. But I will leave you with one seasonal pick: Alta Vista, rose de malbec, 2006, which has pleasant acidity, notes of rose petals and red berries, and a delicate balance. And for $12 (find this wine), it's one to stock in your cooler on the deck this summer. Whether or not it gets 95 points from the Wine Advocate, is anybody's guess–and you won't find out until the end of rosé season anyway.