This postcard from India is by Dini Rao, formerly in the wine department at Christie's New York, and currently finishing her MBA at Harvard Business School. You can read her first postcard here.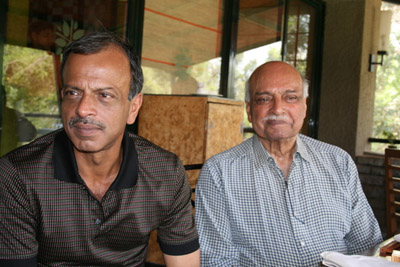 Wine pioneers Kapil and Kanwal Grover fell in love with wine after purchasing 1961 Mouton from Christie's
While you can always drink wine while it's hot, as Indians are starting to do, how do you make wine in the heat of India?!
India's climate does not allow grapevines to become dormant, as is typical in winter. With the opportunity for two harvests, growers prune back vines to collect a single harvest per year, allowing for more concentrated fruit. Using the mild, dry winters as the growing season, harvest occurs from February to March as in the Southern Hemisphere. During the forced dormant months of April through September, the heat of summer precedes monsoon rains that nourish the vines.
High altitudes in foothill areas around Nasik and Bangalore create moderate temperatures conducive to wine grape cultivation. Maharashtra state is home to over 40 wineries, with half near the holy city of Nasik, 80 miles northeast of Mumbai. At 2000′ altitude, the wine temperature fluctuations between day and night in Nasik allow for additional flavor development.
Nasik's viticulture began with excellent table grapes for eating, which garnered high prices due to cool temperatures and excellent water sources. Now contract grape farmers supply the burgeoning wine production with vinifera grapes such as Chenin Blanc, Cabernet Sauvignon, Shiraz and Zinfandel, but Thomson Seedless still finds its way into many bottles. Limits on agricultural land holdings require wineries to rely on farmers who lack proper training and tend to over-irrigate.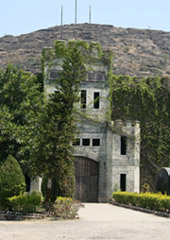 While much sweet, high-alcohol wine still exists, modern winemaking has arrived in India with gusto. Large, air conditioned wineries are being built at an alarming rate equipped with French oak barrels, temperature-controlled fermentation tanks, and pneumatic presses. A big mystery is the use of gyropalettes, which substitute capital for labor in a country where labor is so cheap that they pay someone to press the button and give you a ticket number when you enter the Air India office. Instead of having a person come along and "riddle" the bottles of sparkling wine as they mature in the cellars, producers have invested in gyropalettes to do this task automatically (someone talked this winery into buying the bridge…).
Flying winemaker Michel Rolland has consulted for Grover Vineyards in Bangalore since 1995 and other foreign consultants present their solutions to various wineries for hefty fees. Winemakers learn to compensate for varying fruit by acidifying, adding enzymes for color, and making other adjustments with no regulatory controls. As site selection, viticulture and experience improves, Indian wine has both the potential and the market to thrive. The next hurdle will be temperature controlled shipping and storage.
Wines to watch for:
Grover Vineyards: the 2004 "La Reserve" (about $20; find this wine) carries the modern Bordeaux influence of Rolland and pairs nicely with masala lamb chops; I enjoy the dry Shiraz rosé (find this wine) and Cab/Shiraz blend for $10 – $15. (find this wine)
Sula Vineyards: the crisp, fresh and zingy Sauvignon Blanc for $12 is a must try, especially with a Kerala fish curry. Sula is owned by Stanford grad Rajeev Samant who is on his way to making Sula India's top brand. (find this wine)
Reveilo: gets my vote for most promising winery and will be imported to the US soon; I tasted a great range of Sauvignon Blanc, CS, Shiraz and a late harvest Chenin there.
Mountain View is another up and coming quality producer, yet to be imported to the US.
Finally, if you plan to visit Nasik, I recommend a stay at Renaissance Winery's guest house with a European restaurant and wine bar next to the villa-like winery to sip their fresh Chenin Blanc. More photos and captions after the jump.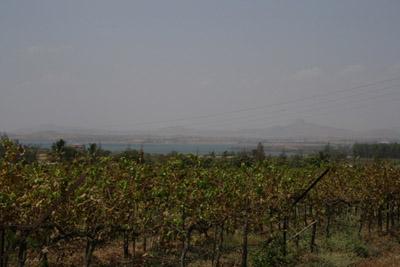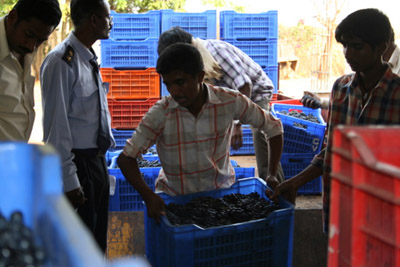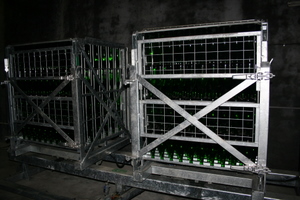 Photos:
Kapil and Kanwal Grover
India's largest producer, Chateau Indage's "champagne" cellars
Sula's vineyards overlooking the Gangapur Dam
Bringing in the harvest at Grover Vineyards (March 19)
A gyropalette