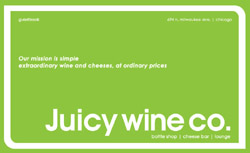 The Friday meetup at Juicy Wine Co in Chicago was a good time. Former participants in my U of C classes, some site readers that I had never met including a sommelier and a leading econoblogger were there. As was the inimitable team from Upgrade: Travel Better.
Juicy offers a compact but cool environment that even made this New Yorker jealous. Why? The wine bar/wine shop is not legally an option in New York thanks to silly laws prohibit wine consumers from buying a bottle to go or to stay. Juicy charges a $15 corkage, or in their parlance, "chill out" fee over the retail prices, which makes it the cheapest place to sit down and enjoy a bottle of Krug in the city.
I stuck with the wines by the glass enjoying a Kerner from Alto-Adige and a plate of American artisanal cheeses. Charcuterie is also available but no hot food. The wine list is not enormous but the selections are well-chosen with many selections I wanted to try. Oddly, for being a wine destination, the wine list has no vintages.
We were served by the wildly knowledgeable and personable Linda Violago who has served many a fine wine at Charlie Trotter's, her main gig, for the past few years. She is leaving Chicago in ten days to assume the chief wine duties at Mugaritz in San Sebastian, Spain. If readers of this blog go to that restaurant in the near future (and I am envious, yes), then give her a shout!
Juicy Wine Company
694 N. Milwaukee Ave.
(312) 492-6620