This postcard from India is by Dini Rao, formerly in the wine department at Christie's, and currently finishing her MBA at Harvard Business School.
My wine experience during my stay in India was eye-opening. If you told me five years ago that Indians would put down their bottles of Johnny Walker Black Label for a glass of Shiraz, I would laugh. After spending the first portion of my trip in the southern city of Chennai (formerly Madras), my concept of an Indian wine shop was bleak: a wine stand (see the first photo above) with men standing around in lungis all day, taking shots of "wine" i.e. liquor or port.
Then I arrived in Mumbai where swank hotels and restaurants serve Veuve yellow label for Rs. 2000 or $50 a glass. Top wineries attract Indians eager for tours with beautiful tasting rooms (see the second photo). As if welcoming me to the city, the current issue of Time Out Mumbai featured "Wine: Why we're all drinking it," a 12 page spread about wine bars, producers and sommeliers around town. According to a Newsweek International online article, Bollywood, which just graduated to showing its first scandalous on screen kiss on the lips, features stars sipping wine in recent movies.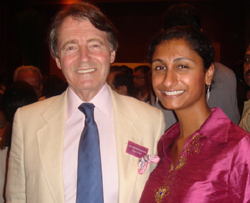 Wine, while trendy, also seems to have serious takers. A friend publishes the wine magazine Sommelier India that circulates to India's growing wine enthusiasts. When invited to witness a Wine Society of India tasting, I quickly dropped my previous plans to see Stephen Spurrier speak to 500 assembled Indian guests (see photo).
India's wine future seems bright. Euromonitor predicts 100% growth from the 9 million bottles currently consumed in India over the next five years. Consumption per capita is low in the billion-person country, but concentrated, as Mumbai drinks 40% of wine by value and will continue as one of the highest growing markets. No wonder the WTO, led by the EU and US, pressures India to change the import duties on foreign wines which currently reach up to 550%.
Perhaps the most surprising aspect of India's wine culture is its own wine production. More on this in Wine in India, Part 2.