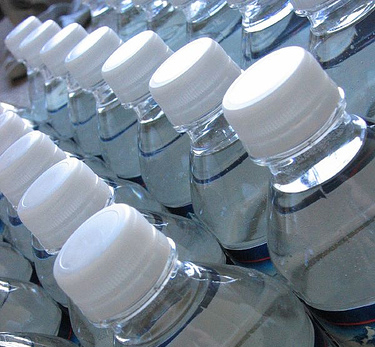 I'm giving up water for 30 days. Bottled water that is.
In the discussion of the carbon footprint of wine here last week, I floated the idea of purchasing carbon offsets to assuage carbon guilt. In case I had any doubt of the efficacy of this matter, an excellent column in the Financial Times last week on the subject of offsets made me put paid to this notion.
A hilarious quote compared the system of carbon offsets to "the medieval system of indulgences, in which corrupt priests absolved sins for haggled fees." The author, John Guthrie, went on to say that the practice of buying tracts of forest land for protection as offsets may be out of favor now. The band Coldplay bought 10,000 mango trees in southern India to offset the carbon produced by the release of their second album. Five years later, the trees have now withered and died.
So if I am to make my wine drinking carbon neutral, I can't buy my way out of it: I actually have to give something up. I figure I should go beverage-for-beverage, in other words, keep wine, and give up something else. I'd love to say that I would give up soda, but since I haven't had a soda in something like 15 years, that would kind of be like my giving up snowmobiling, jet-skiing, and being driven to work in a stretch Hummer limousine (oh wait, that last one actually WILL be tough to give up).
Because the kind of wine that I enjoy is a unique product that can't be replaced locally, I have another target in my sights that can: bottled water. It's one of those paradoxes of the global era to be able to buy spring water from the French alps or the islands of Fiji in New York when there is abundant drinkable tap water available (unlike some countries, the efforts of a current UNICEF campaign). And, as a commenter pointed out in a previous posting, this chart shows that bottled water's growth rate is faster than wine–it must be stopped!
So for 30 days I'm not going to consume any bottled water. Just what kind of a sacrifice will that be? Granted, not a huge one. I might save the world something like 30 bottles of water. But it's a start. And I may even extend it if I can live without my favorite Gerolsteiner. So if you'll excuse me, I have to go and fill up my water bottle at the drinking fountain.
(image)