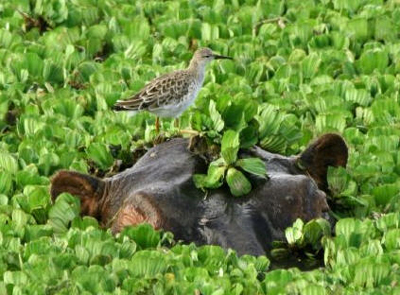 One of the oldest and most dubious sales pitches in the wine trade might be "this wine comes from the vineyard right next to [insert prestigious winery name here]. Similar quality, a fraction of the price."
Uh huh.
So it was with my eyebrow duly raised that I met with Cameron Hughes. He lures Costco shoppers down the aisle to try his wine by telling them that he's got a "$30 wine for $9.99." Based on some rhapsodic reviews of his wines on wine web sites, the claim sounded plausible enough to lure me to meet with him for a coffee one morning on his recent trip to New York City.
Hughes is not a wine maker. He is part wine finder, part marketer, and and part salesman. And he's introducing an innovative way of making and selling wine that is delivering cost-savings to consumers in the form of some easy-drinking, value vino.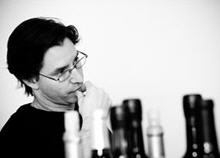 He honed his skills working for five years in the late 1990s at The Wine Group, a company that few wine consumers have ever heard of despite being the third largest in the US through brands such as Franzia, Corbett Canyon, and Glen Ellen. He sold the wines "from foxhole to foxhole" in the fragmented market that is New York.
But it wasn't until he moved to California to work for an importer that he "learned how cheap this stuff actually is." He said he saw the importer buying wine for $36 for a twelve-bottle case that ultimately sold for $18 a bottle in stores, or $216 a case. He investigated the California bulk market and found some cabernets that sold for $30 in a store actually cost the winery $4-$7.
So he went out on his own and tried to tap the wine glut and introduce efficiencies in the often flabby wine market. After a couple of years on his own, barely breaking even, he needed a new business model. A friend told him that he had a good syrah and wanted a retailer to sell it. Cameron shopped it to Trader Joe's, known for selling great value wines, and later Safeway. Both declined.
Then he went to Costco. Cameron told me that the buyer "loved it and said 'I'll buy everything you've got.'" The wine was bottled as Cameron Hughes Wine Lot #1 Syrah and the 2,000 cases were sold entirely to Costco.
Now on Lot #30, the lot program is a huge success having sold 37,000 cases last year. What's the secret?
Finding the right wines. Like J. Peterman in days of old, Cameron Hughes scours the world for exotica. He often finds his wine bargains in the "spot market" for fine wines. The wines he buys are often not good enough for the top blend for a winery. Or he buys the crop from a vineyard owner who otherwise would have their fruit lost as it upgraded a large blend. So he rescues them, saying "I'm a bird on the back of a hippo—a positive parasite."
Because Cameron Hughes Wines is more efficient, with low overhead and bypassing various tiers, they can often pay a premium to rescue good juice. But he won't say what it is though, since he buys the wines with the understanding of not revealing their sources. Thus Cameron Hughes is the brand, or as he put it to me, a "super brand."
He called the major wine producers "strap-on marketing machines" who buy wine, bottle it, and ship it. He's doing a similar thing but on a smaller scale, with higher-end wines, and greater efficiencies.
Selling direct. Cameron Hughes Wines are only sold in two places, Costco stores (in California and beyond) and directly over the internet. Even though the wines are fairly limited production, Costco—the largest wine retailer in the country—is still a great retailer for his wines, Hughes says, since the Costco shopper is used to the treasure hunt. Since Costco might have sport coats one day and flat screen TVs the next, it's not hard to imagine the customers buying up all his wine.
And they did just that one weekend in the Danville, CA Costco where 1,000 cases of a new wine walked out the door. Many wine marketers, he told me, don't like his enthusiastic hawking of his wines on the floor of the store since his actions are forcing them to ramp up staff ready to pour as well. It's a great image that practically made me want to go to the Danville Costco to witness it myself—me, wine consumer, being serenaded in the aisles by wine marketers.
But the Costco shoppers don't just pick up the wine on a whim. Cameron has cultivated a rich email database that alerts legions of his fans to new wines, available at Costco and through him. Even though Cameron Hughes Wines is a licensed distributor, they also have an internet-only retail license and can sell directly to consumers.
It's disruptive. He says so. "But what's good for the consumer is good for the wine business," he said confidently.
* * * * *

So is there a Cameron Hughes style in the bottle? After our meeting in New York, he sent me some of his wine so that I could put them to the test in the glass. I would sum up the style to say the wines are reflective of their time. The reds are big and the whites are fruit forward. The wines represent some compelling wine values and even though I didn't like them all, it's definitely worth taking a flier on them—hey, it's only ten bucks after all. We had some friends over and here are my thoughts:
Lot 23 Meritage 2002: This blend of Sonoma and Napa fruit aromas of maturing fruit, not young any longer but hugely enjoyable still. Rating: quickly emptied.
Lot 24: Excellent value Sonoma County syrah. One syrah-loving friend was quick to claim this bottle as his own. When he saw me pouring this bottle around to others, he encouraged me to instead leave it near him and pour Lot 27 to them. Rating: horded.
Lot 16 Cabernet, Stag's Leap: A very solid Napa cab. Rating: quickly emptied.
Lot 19 Stellbosch merlot 2004: an interesting merlot for under $20? Small wonder he had to go to South Africa to get it. Crowd pleaser. Rating: emptied.
Lot 21 Amador-Lodi zinfandel 2004: gobs of fruit, full-throttle zin, needs grilled meat. Rating: half-empty.
Lot 27 Russian River Valley syrah: Competent but see Lot 24. Rating: half-empty.
Not recommended:
Lot 17 Sierra Foothills Bonarda 2004: This is California barbera, in a big, extracted style with notes of mature fruit. Not a style of barbera I found convincing but I can see the appeal to grillers.
Lot 25 Napa Valley Sparkling wine: competent bubbly with a tad too much residual sugar for my liking.
Lot 26 Marlborough sauvignon blanc: competent but really tart acidity. And at $13, where are the cost savings?
Lot 22 Edna Valley chardonnay 2005: light oak, some fruit and acidity, but didn't seem to add up to much.
Lot 18 Stellenbosch cabernet 2004: very un-cabernet-like.
For full details and availability see chwine.com
(image 1)