I recently tasted the intense, fruit-forward Tikal, Amorio, 2005 (about $30; find this wine). Along with notes of dark berries, tobacco and toast, was there also a whiff of petroleum?
The wine's oversized bottle complemented the flavor profile perfectly since the bottle weighed about as much empty as a regular bottle full. I pity the wine store clerk who has to lift a case of it.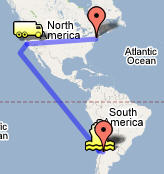 The heavy bottle took a long, meandering route to get to me in New York City. Starting out at the winery in Mendoza, Argentina, the wine's American importer trucked it over the Andes to the port of San Antonio in Chile. There it loaded a boat and went to Oakland, CA. From there it came across country by truck to me in New York.
That's a lot of carbon used to bring me this bottle of vino. But is it too much? At least the heavy bottle didn't come by plane, which would have really jacked the petroleum per ounce of wine.
I was intrigued to read in the SF Chronicle that several restaurants have stopped serving (imported) bottled water because it is deemed too carbon inefficient.
Michael Pollan's The Omnivore's Dilemma prompted many eaters to think about the "carbon footprint" of their food and consider locally produced foods. Does that translate for you to your wine consumption?
The key issue for me is ease of substitution. I may be able to get water from local sources, but I can't get any malbec locally. A tough call. Perhaps any eco guilt could be assuaged by buying carbon offsets?
Related:
"Local tap water bubbles up in restaurants" [SF Chronicle]
"Carbon neutral is hip, but is it green?" [NYT]