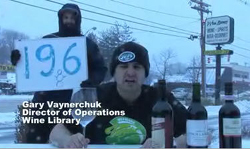 Congratulations to Gary Vaynerchuk of Wine Library in Springfield, NJ and tv.winelibrary.com on the 'net! Known for his popular video podcasts, Gary had a great nine-minute segment on NPR's Weekend Edition. Host Scott Simon visits the 40,000 square-foot store (wow–that's enormous!) and tastes wine with Gary. Scott does a great job talking about blackcurrant, cough drops, and even soil-after-rain!
One thing that Gary mentions is that he has six magnums of Leoville Las Cases 1975 (his birth year) in his cellar waiting for the Jets to win the Superbowl. When they do–"please, God, please let that happen," he says–he won't just open one and drink it. He'll open all six and pour them on his head! Good stuff. But also an expensive shower with each magnum fetching $350 today (and IF/when the Jets ever win, who knows what they'll be worth).
I've got a few bottles of port from 2003, the year our son was born, to open with him on his 21st birthday. But otherwise not much with a "drink me" (or "shower me") date on it. Which wines do you have stashed away for future occasions?