On Saturday at the University of Chicago, we had a fun time "critiquing the critics." We discussed what is certainly one of the hottest hot-button issues in wine, the use of scores, and assessed a variety of other ways for evaluating wine. We tasted our way through ten wines and munched through some artisanal cheeses and breads.
The wines were from a range of styles and included bubbly, red and white. Some of the faves were:
* Bisol prosecco, NV (about $13; find this wine). Controversy came with this wine with high praise from Wine & Spirits (93 points) and faint praise wine Wine Spec (86 points). The yummy sparkler got a thumbs up from the group.
* William Fevre, Vaudesir, Grand Cru Chablis, 2004 (about $45; find this wine). I didn't even realize that Rovani/Parker tasted Chablis but Rovani slapped a 93 on this one. 'Tis good. Wonderful minerality with delicate acidity, which makes for a very nice mouthfeel and it has an excellent finish. No unanimity on this wine to be sure, with others preferring the American chardonnay, but I thought it was excellent, if pricey.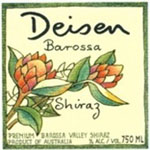 * Deisen, shiraz, Barossa, 2002 (about $50; find this wine). A brawny shiraz from down under with 15% alcohol. Parker 94. The class loved it with no dissenters. While the wine is very user friendly as far as shiraz-ma-taz is concerned, I found the alcohol to be somewhat off-putting.
* Castano, Hecula, monastrell, 2004. (about $10; find this wine). This is a darned good value vino since many participants thought it was at least $30. It's got hints of that mourvedre gamey-ness and I think it could do with a few years in the cellar to tame it a bit. But still, it's vigor would be great with game or grilled meats.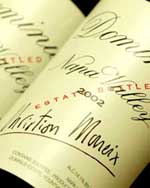 * Dominus, Napa, 2003 (about $100; find this wine) This was the most critically contested wine of the day with a huge spread between Parker's 95 and the Wine Spec's Jim Laube zinging it with an 81 (a score so low that the Wine Advocate would not even publish it). Laube didn't even grumble about TCA, the usual cause of his zingers, simply going with the "disappointingly dry and austere." I poured it blind and there were lots of pros and only two cons before I revealed the "controversy."
It was a hedonistic afternoon. If you're interested, there may be a couple of spaces left for my next class in May. Hope to see you there!