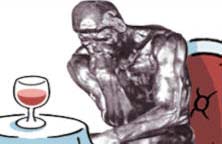 Eric Asimov's trying to eliminate my job!
In his column yesterday (which is currently the #3 most emailed on the site), the NYT chief wine critic and chief wine blogger says that the best thing for wine newbies to do is find a trusted wine shop and put $250 of your wine budget in their hands and walk out with a case of wine. It's better than even taking a class he argues.
As a wine educator (with three classes this week), I have to object! But he does make a good point–two good points, actually.
First, my objection. In my classes, I select wines, organize them thematically or stylistically, pair them with food (granted, just cheese, bread, and occasionally olives not a full meal), show maps, images, and talk about the politics, people and history of a wine. We also talk about how to find the best wine buys locally, wine-friendly restaurants, where to taste wines for free, how to serve, and much more. The two hours fly by. And all participants get to talk, sip, and discuss, so there is a social aspect as well. So don't write off classes too quickly, even for newbies! They can have much to offer.
But Asimov still has a fundamentally good point: there's no substitute for learning through tasting. Not everyone will have wine classes available near them or perhaps the time to take a class so then I absolutely agree that you should put your money where your mouth is via a local retailer. This lowers the barriers of entry so that anybody can do it, regardless of level of wine geekdom.
The second good point that Asimov makes is to trust a local retailer, hopefully two retailers. Why? Well, for one, they have the wines available to sell you. Many times you can read about great sounding wines on the web or in print but then you can't find them near you. Trusting the retailer doesn't lead to that frustration.
Moreover, you can have feedback. Unlike a critic whom you may never meet, you might visit your retailer once a week or once a month. So there's accountability. They want to make you happy and keep you coming back, not sell you wine a hedonistic fruit bomb if your preferences run more toward the earthy and the minerally.
But one subtle distinction: the custom case is the way to go over the pre-fab case. Many wine shops put together cases at various price points or for different flavor preferences. While these sometimes can be good, I'm always leery that they are putting wines that need to "move" in such cases. When you choose a staffer to put together your case for you, not only is it more customized, but it's more likely to be wines chosen simply on their merits, rather than economic reasons.
So, why are you still in front of your computer? Get thee to a shop!
Related:
"Add some juice to your wine dollar: buying tips" [Dr. V]
"Making a case: 12 gift wines" [Dr. V]