A couple of years ago I started a project that I called the Real Wine World. No, it didn't involve locking three wine industry participants in a house and filming them 24 hours a day. Its goal was simply to follow a wine producer, a wine importer, and a wine retailer for a year to get a better look at how the wine biz works.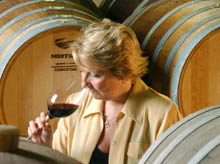 The participants were Susana Balbo in Argentina, Italian wine importer Gregory Smolik in Chicago, and the small shop Big Nose Full Body in Brooklyn's Park Slope.
The reason I bring this up now is twofold. First, I have just transfered all the pieces over to this new site, posted to their original dates. You can find the lead-off piece here. And thanks to the new categories function, you can find all the pieces under The Real Wine World. The pieces now have space for your comments!
Second, I thought I should bring closure to the project. Everyone got busy and the project didn't make it the whole year. Susana Balbo had further demands on her time as she became president of the Wines of Argentina trade association. Gregory Smolik's career as an independent importer of boutique wines from Italy came to an end but he now brings his passion and knowledge to his new job at the importer Domaine Select. Big Nose Full Body is still lubricating the palates of Park Slopers with free tastings on Saturday afternoons and 15% case discounts every day.


Who knows, maybe we'll try for a second season of the Real Wine World sometime?!