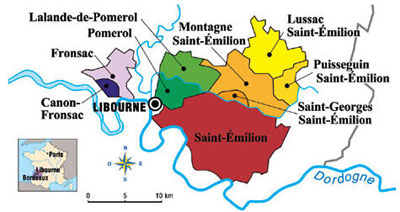 This just in from Bordeaux: a political institution is found to be full of politics!
In a surprising turn of events, a local court has suspended the St. Emilion grand cru classification, dating from 1954. Four producers who were bounced from the list of 61 producers at last year's update have brought suit and the court has ruled in their favor. The supposedly independent committee chosen to reclassify the list every ten years was found not to be impartial. Nor did they do much legwork, visiting only seven of the 95 properties they were reviewing.
An interesting aspect is that the four spurned producers who brought the suit are not considered the top in the region anyway. In fact, Nicolas Thienpont, whose Château Pavie-Macquin was promoted to first growth, told WineEnthusiast.com that the four disqualified properties "produce rubbish." Many of the Parker favorites from the region, such as Valandraud and Quinault, were not included in the reclassification last year. But when I asked Jean-Luc Thunevin of Valandraud about it last fall, he was disappointed but in the end shrugged it off. His wine sells at $250 a bottle after all. The wines of some of the four DQ'd producers sell for much less, if they could even find an importer interested in marketing their wines.
And what the heck, the garagistes don't get mad, they get even. Thunevin, Raynaud of Quinault, and others decided to make their own group anyway, the Cercle Rive Droite. More to follow on this development. And hopefully we will learn more about the inner workings of the Grand Cru system as the court continues these proceedings.
Additional coverage: Telegraph.co.uk, Decanter