Are Gen Y wine shops all they're cracked up to be? Since I'm Gen X (and a wine geek) I had to find a Gen Y person, relatively new to wine to tell me. I posted about this mission and from the replies, I selected Grace Nguyen (whom I have never met) to take the challenge and report back to us.
The mission: go to two "new wave wine shops," with a menu in mind, and see what they suggest. Then take home the staff picks and see how they go with the meal.
Our agent: Grace Nguyen, 27….Studied Environmental Economics and Policy at Berkeley….Then became a line cook and pastry cook for five years…Now studying for a Master's in NYU's Food Studies program…She wants to learn more about wine…And now, over to Grace, with notes from the field.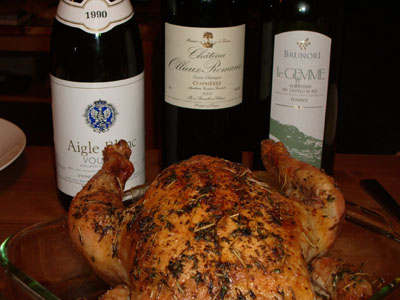 They're calling them Gen Y wine shops because they have one thing in common; they cater to the neophytes of wine drinkers. Customers will no longer have to suffer wine-shop inferiority. A smaller wine selection, wine descriptors by flavor, and printable tasting notes, are some of the recent trends. These shops have taken a new angle and have figured out the reasons why the average person drinks wine: for taste and for dinner.
So let's see what these shops have to offer. My wine price range: $10-$15. My dinner: chicken with mustard. The recommendation: a 2005 Verdicchio and a 1990 Vouvray from Moore Brothers Wine Company (map it). And a 2004 Corbieres from Bottlerocket Wine and Spirits. Although both shops were eager to help me find that perfect wine to complement my dinner, they offered conflicting recommendations.
"You'll want something earthy with a little acidity. You don't want too much fruit, especially with mustard." The clerk at Moore Brothers suggested the Vouvray Aigle Blanc 1990 at $25, and although apologetic for suggesting a more expensive bottle, he couldn't stop praising it (find this wine). "It's earthy, with hints of mushrooms, slight fruit, and just enough acidity. It'll go very nicely with chicken and mustard." It sounded sincere enough.

He went on to talk about the winery. Apparently, the original winemaker is of Polish royalty (Prince Poniatowski) and had just sold his vineyard. They're emptying out the cellars and these happen to be the last bottles under the Poniatowski name. Sounds good to me. I was sold, but still insisted on a less expensive bottle. He recommended several bottles which, after my reminder that I needed just one, he recommended the Verdicchio dei Castielli di Jesi Classico Le Gemme Bronori 2005 for $13 (find this wine). "It's nutty, a little earth. It'll be interesting next to the Vouvray."
A surprisingly intriguing lesson about the geography and history of the wine came from this unassuming wine shop. Unfortunately, you'd only discover this if you actually stepped inside and spoke with someone. Unnoticeable from the street, you'll see that the Moore Brothers wine shop is nothing to gossip about: white walls, plain wine racks, and some vineyard photography. Understated, at best. They do boast of carrying only artisanal wines, which might tease one's feel-good psychology. But then again, if knowing food and wine is what they do best, I won't complain.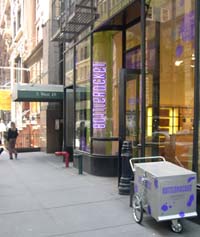 A few blocks away, the newish Bottlerocket Wine and Spirits (map it) is making its mark. Spending some time at Bottlerocket will leave a memorable experience. Making wine fun is their motivation. It's what you'd expect a wine shop not to be – colorful, eye-catching, and visually loud. The wine clerk, eager to show-off their shop, happily told me that their select 350 wines are "displayed in the traditional manner by varietal, and then duplicated by different pairing themes down the center; seafood, poultry, chocolate, even take-out."
I asked the same questions: $10-$15, for a dinner with chicken and mustard. She suggested a red, "It's still a little cold out. How something a medium bodied? This is my go-to favorite, a 2004 Corbieres from Chateau Ollieux for $13 (find this wine). Lots of black fruits. You'll want fruit to balance the mustard." Fruits? Not according to Moore Brothers. And there you have it: two conflicting recommendations.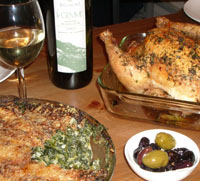 So what do you do when you get contradicting wine suggestions? Simple enough. Have a dinner party and let the guests battle it out. So the few days of wine inquiries culminated into last night's humble dinner: roasted chicken, spinach gratin, and mustard roasted potatoes.
We started with the two whites from Moore Brothers, the Verdicchio and then the Vouvray. The Verdicchio, I was told, to drink first: dry and nutty, with just a little acidity. This was the favorite for two guests. The Vouvray was next in line, already opened and ready to pour. It was noticeably richer and sweet, but a sweetness more like toffee and not fruit. One friend tasted strawberry jam. The Vouvray complemented the delicate flavor of the spinach and rounded out the acidity of the mustard, an easy wine to drink. Two yays and two nays for this wine. One guest apparently dislikes sweet wine all together.
From there we moved onto the red: the 2004 Corbieres. And was this the shock of the night! Surprisingly, the least favorite, this potentially good wine left us with an eye-widening, mouth smacking acidity that forced us to finish our meal before we continued to drink. And great wine shop, but a not-so-great pairing. But not all was lost; by that time around our tummies were full and we were all happy.
But who are we to talk about wine pairings? It could've been the wine, it could've been my food, hell, it could've been my friends. Can I really trust anyone who bans all sweet wine anyway? I'm no expert when it comes to wine pairings, and quite honestly, I can't imagine any ease in pairing wines with the flavor complexity of a full dinner. So I wouldn't knock off Bottlerocket just yet. Besides, it's actually a lot fun just being in the store. They emphasize flavor components and pairings over the history and geography of wine, the way Moore Brothers had. Bottlerocket stays true to their mission: wine is fun! Regardless of each wine shop's style, one fact remains: shops now cater to our whims and fancies. It feels good to be in control.