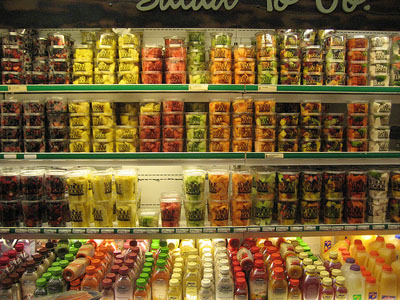 The gleaming 72,000 square foot Whole Foods Bowery, opening today, has a "fromagerie" complete with an aging room. Cheeses come from Neal's Yard in London, French affineur Hervé Mons, and some American classics such as Jasper Hill. The cheese manager was formerly at Artisanal Premium Cheese. There is a French fry station, a culinary center for classes and events, and two dining areas including conveyor-belt sushi. They can sell beer, local micro-brews and national macro-brews.
But there will be no wine.
Yes, it's time for another edition of "New York's crazy wine retailing laws!"
Law #1: Thou shalt not have more than one wine retail license in the state of New York. This is the fourth Whole Foods in Manhattan and the seventh in New York State. None of the NY stores sells wine (you never know what might happen if you could buy Sancerre the same time you buy Camembert), unlike Whole Foods stores in renegade states California, Illinois and Texas–where, I hasten to point out, levels of social unrest are no higher than in New York as a result of selling wine.
Whole Foods did have a wine retail license at their Columbus Circle location when it opened. They pulled the pulled the plug on that location voluntarily if somewhat mysteriously–there was something about it not being a street-level entrance, another instance of NY wine retail craziness. Apparently, WF still has the right to transfer the license to another location. Which brings us to…
Law #2: Thou shalt get down on bended knee and ask locals for the privilege of selling them wine. As Eater.com has been chronicling in their excellent series on the "drying of NYC," this law affects bars and restaurants a lot more. Think about it: bar opens in your neighborhood, spills loud people into streets while you are trying to sleep. Fair enough, that could be worth getting riled up about.
But a shop? People go in, buy wine, take it home to drink it. It's closed by 9 PM. I fail to see how that can cause angst in the neighborhood. Unless of course you are a competing wine retailer and you are attempting naked economic protectionism.
And apparently that's what's really happening. According to the NY Sun, Frank Geresi who owns local wine shop Elizabeth & Vine fears Whole Foods as a wine shop. He said "If I were a small hardware store and you were Home Depot, who would come to me to get a hammer once you moved in?" Nice try, Mr. Geresi: hammers are commodities and Whole Foods isn't a discounter.
I don't doubt that if Whole Foods got permission from the Community Board for the at-grade store-next-door-to-the-store that they would do a good job filling it with tons of interesting, biodynamic, organic or otherwise natural or even local wines. Look at all the TLC they're putting into the "fromagerie" after all. And it would be convenient. But anybody who's been to a WF in another state that does sell wine knows that you pay for that convenience: shopping around other wine stores will cut probably 15% off your wine bill.
So to New York officials: down with state laws limiting licenses! And to the Elizabeth & Vine: drop the resistance and let WF in! Just step up your game. Get great wines. Offer great prices and service. Heck, offer shipping to increase your reach. Who knows, WF selling wine in the neighborhood might just make more people in the neighborhood want wine. And to Community Board 3: do your bit and help make wine more accessible in America. Grant them the license!
(image)